Iranian weapons smuggling networks have been funnelling rocket-propelled grenades (RPGs), rocket launcher systems and anti-tank missiles sourced from Iraq to Russia to aid its assault on Ukraine, a new report reveals.
The arms smuggling effort is being carried out with the help of Iran-aligned Iraqi militias, the Guardian reported Monday (April 11).
According to a source who helped to organise the transport, Tehran also donated an Iranian-made Bavar 373 missile system to Moscow, and returned a Russian S-300 missile system to its northern ally, the media outlet said.
Munitions and military hardware were transported to Iran via the Shalamcheh border crossing with Iran in Iraq's Basra province on March 26, it said.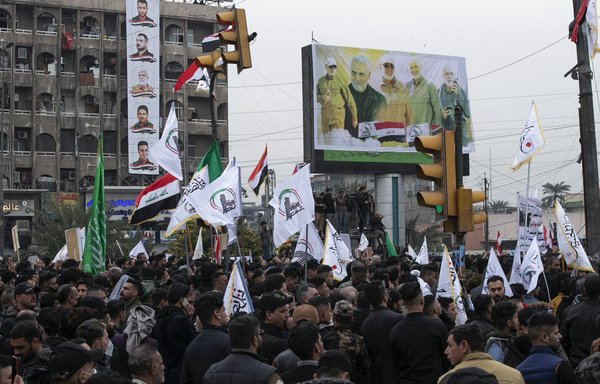 Iraqi government sources and Iraq's border crossing commission spokesman said "a party might have sent weapons to a neighbouring country" in reaction to the findings, the ESTA Media Network reported Tuesday.
Iran-aligned militias control much of the border region with Iran, experts say, though the Iraqi government in July 2020 began to implement a plan to tackle corruption, smuggling and illegal activities at Shalamcheh and other crossings.
Iran has shown a marked interest in the border crossing, with an Iranian official from the Kermanshah Chamber of Commerce in February stating that it sees the crossing as "a gateway for trade with Syria and Lebanon as well".
At a March 2 conference, Iranian Trade Development Organisation director Farzad Belten said the Iranian government is seeking to establish a railway link with the southern Iraqi provinces (Basra, Dhi Qar and Maysan).
He pointed to the need to work towards unified management of the Shalamcheh border crossing between the two countries.
North-South Transport Corridor
According to a commander of the militia that controls the crossing, the Iranian military received the shipment at Shalamcheh and took it to Russia by sea, the Guardian said.
The Iran-aligned militias also dismantled and shipped two Brazilian-designed rocket launcher systems, according to a militia source.
The Guardian noted that three cargo ships capable of carrying such loads -- two Russian flagged and one Iranian flagged -- had crossed the Caspian Sea from Iran's port of Bandar-e Anzali to the Russian city of Astrakhan in this timeframe.
Two decades ago, Russia, Iran and India signed an agreement laying out a vision for a North-South Transport Corridor, according to a July 2002 Brookings Institution report.
This is a 7,200-km ship, rail and road route for moving freight between India, Iran, Afghanistan, Azerbaijan, Russia, Central Asia and Europe.
The route stretches from India across the Arabian Sea to the Iranian port of Bandar Abbas, where goods then transit Iran and the Caspian Sea to ports in Russia's sector of the Caspian, the Washington-based think tank said.
In the Soviet era, it said, millions of tonnes per year of transit cargo passed from Europe to Iran via the USSR and between the USSR and India along this route.
During an April 2002 visit to the Astrakhan region on the Caspian coast, the Brookings Institution said, Russian president Vladimir Putin singled out the economic importance of the North-South Transport Corridor.
'Shift in Russian strategy'
"Using the weapons-trafficking underworld would signal a dramatic shift in Russian strategy, as Moscow is forced to lean on Iran, its military ally in Syria, following new sanctions triggered by the invasion of Ukraine," the Guardian said.
Carnegie Middle East Centre fellow Mohaned Hage Ali said the type of weaponry in question "would make a big difference on the ground in Ukraine".
"Other countries such as China are having to be very careful about giving weapons to Russia now, given the new sanctions situation," he told the Guardian. "And Iran, as part of that axis, wants to make sure Russia doesn't lose ground in this conflict."
"If the Putin regime is destabilised, that has huge implications for Iran, particularly in Syria, where Damascus is dependent on Russian air support and Russia co-ordinates to avoid direct conflict between them and Israel," he added.
Russia is currently facing extensive sanctions as a consequence of its war on Ukraine, which includes items with military uses. Among other setbacks, this has left its main armoured vehicle plant short of parts.