In parts of Syria once held by the opposition that are now under the control of the regime of Bashar al-Assad, the rubble of buildings destroyed in the war still litters the streets, infrastructure is dilapidated and services are limited, at best.
In addition to the neglect these areas have suffered since coming back under regime control, Syrian academics and citizens said, corruption runs rampant among the regime officials responsible for administering them.
The corruption has stalled any forward progress by disrupting and derailing public works rehabilitation projects, they said.
Areas formerly controlled by the opposition suffered widespread destruction as a result of heavy regime and allied air strikes, shelling and fighting, said Syrian economist and Damascus University lecturer Mahmoud Mustafa.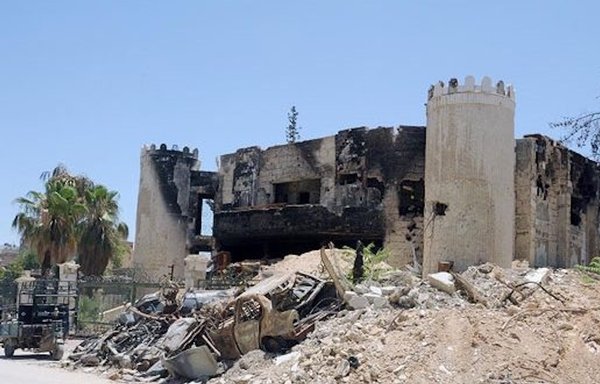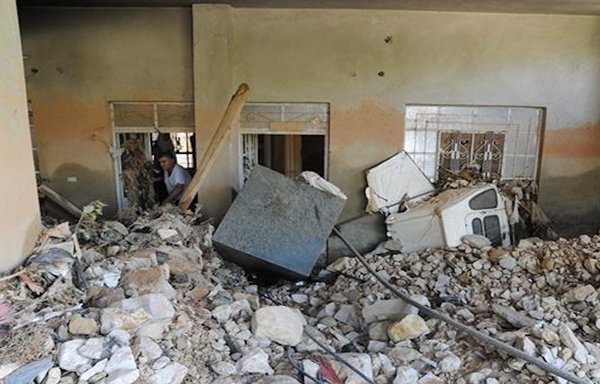 All types of buildings and infrastructure were damaged during the war, he said.
In some areas, such as rural Damascus, only about 10% of the detritus of war has been cleared, despite government decisions and decrees on the removal of rubble and cracked buildings in preparation for the reconstruction process.
"The area's miserable situation has made it uninhabitable, which clearly contributed to the [small] number of returnees, and has in fact caused dozens of families to move to other areas," he said.
Syrian state media claim that services are being provided to the fullest extent in the affected areas, but in reality this is not the case, said Mustafa.
If any services are provided at all, he said, they reach districts that are loyal to the regime or to the militias affiliated with it.
Deliberate neglect
"The regime's neglect of the destroyed areas appears to be deliberate," said Hussein al-Daher, a farmer from Idlib who resides in a village near the Turkish border.
He said the regime aims to make these areas uninhabitable "to chase original inhabitants away and move forward with the process of bringing about demographic change and settling regime and Iran loyalists in the region".
Meanwhile, he noted, the projects being implemented around Damascus have been awarded to pro-Iran companies or members of regime-affiliated militias.
The same is true in other areas where the Syrian regime re-establishes control.
"Hundreds of families have left their homes and lands because it is impossible to live in the distressed areas" without water, electricity or sanitation, he said.
"Concerns are high that with the passage of time a return will become impossible, especially since many agricultural lands have been seized, both outright and by government institutions after they were auctioned off," he said.
Al-Daher said he opted to move to the border area and stay in a displacement camp because of his "inability to provide the minimum requirements" for his family in his former home.
Much of his house was destroyed, he said, and public utilities and services such as schools were lacking.
Systemic corruption
Systemic corruption is one of the main reasons for the sorry state of regime-controlled areas, according to rural Damascus activist Mohammed al-Beik.
"It has come to light that government officials, including a number of ministers, governors and mayors, are involved in extensive corrupt activities," he said.
Several corrupt officials have been exposed for pocketing money they received to hire contractors to perform rubble clearance ahead of reconstruction, and authorities have fired many of them, he said.
Were it not for disputes that arose among the corrupt officials, the matter would not have come to light, he said, noting that they argued over the amounts of money they received and also quarreled over how to divide it among themselves.
Regime officials and cronies also turn a profit from selling construction waste, particularly rebar (reinforcing rods), he said.
In these scams, rebar is pulled from buildings that collapsed during the war and is passed off as new rebar at standard prices, when the actual cost is less than 25% of the recorded price.
Neglect is not limited to rural Damascus but is rampant in many areas such as Masyaf in western Hama, which is one of the country's most popular summer destinations, said al-Beik.
"The city and its environs suffer from a total absence of all services, which has led to the total absence of any tourist activity," he said.
On the other hand, he noted, authorities now are providing services in some coastal areas, which are the regime's main stronghold, and which have recently witnessed "popular unease".
"This means that the regime is trying to bribe them with what is basically their right, at the expense of other areas," al-Beik said.