Rights groups and specialists are sounding the alarm over a new Syrian law on urban development, saying millions of displaced risk never returning home after losing claim to land left behind.
The Urban Renewal Law, commonly known as Decree 10, allows the government to take private property to create zoned developments, compensating owners with shares of the new projects.
It is a nationwide expansion of 2012's Decree 66, which plans the construction of two glitzy complexes atop the bombed-out suburbs of Damascus.
Similar land acquisitions are used worldwide to redevelop neglected or battle-damaged areas.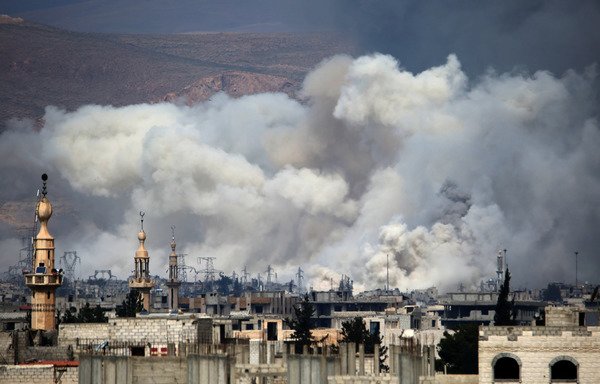 But experts worry its application in Syria, whose war has displaced more than five million people outside their homeland and six million internally, is riddled with violations.
"The margin of abuse is so big, and that is what informs our concern," says Human Rights Watch (HRW) Syria researcher Sara Kayyali.
If their land is part of a new development, owners inevitably lose the property itself and must complete bureaucratic procedures within tight deadlines to get shares in exchange.
That is a tall order for displaced Syrians, who are often missing paperwork, struggling financially, or may not learn of requirements in time.
"The primary concern we are hearing from people who may be affected by this law is that they really do not know whether they can return," she says.
'As if nothing happened'
The law itself makes no mention of the millions of displaced -- a major red flag for Amnesty International's Diana Semaan.
"Nothing in the law guarantees their safety," she warns.
"It tackles the issue as if nothing happened and everyone is in Syria, able to assign power of attorney or come themselves to claim property."
Under Decree 10, once Syria's government designates a development zone, authorities have one month to publicly notify landowners of the shares option.
Those with deeds in government registries automatically receive shares, but those without must prove ownership within 30 days.
Even before war erupted, however, a "significant proportion" of Syrians did not have legally valid documents proving land rights, according to a 2016 Norwegian Refugee Council (NRC) report.
Syrians with deeds in official registries may still struggle to demonstrate ownership, as several centres were destroyed by fighting, including in Homs.
"The loss of these records may enable the occupation and transfer of these properties to other individuals and commercial interests," the NRC wrote.
Many displaced internally or across the border did not bring relevant papers with them: deeds, identification cards, old bills.
Just 20% of Syrian refugee households in Jordan polled by the NRC said they had such documents with them. And fewer than 40% of those displaced from Eastern Ghouta had theirs, per Syrian civil society group The Day After (TDA).
A 2017 decree is meant to help replace deeds, but Kayyali notes "extensive bureaucratic and financial obstacles".
"Given the extent of the displacement and loss of personal documents, the law will not give people enough time to make a claim," she says.
Even shares claimed successfully will likely be worth "much less" than seized land, says Amnesty's Semaan.
"The valuation of property in the law is not properly thought through or fair for those affected," she says.
'Part of a worrying trend'
Syria's opposition accuses the government of using military and legal means to conduct demographic engineering along sectarian lines.
But Amnesty and HRW say Decree 10 is part of a worrying trend that instead disenfranchises Syrians for political or financial reasons.
One law, passed in 2012, allows the government to confiscate the property of anyone accused of "terrorism', a term the regime uses for all its opponents.
Syrians in regime-held territory will not dare make property claims for Decree 10 on behalf of displaced people branded traitors, says Syrian lawyer Hussein Bakri, who wrote TDA's assessment of the law.
"It does not make sense for your relatives to represent you, because the strength of the security services means they will almost certainly be arrested," says Bakri.
Decree 10, he says, "will inevitably lead to landowners losing rights and being dispossessed of their property to the benefit of regime loyalists and supporters".
Such dispossession may be just as much about money as politics, says Jihad Yazigi, editor-in-chief of The Syrian Report.
The "dynamic" rate of property-related legislation demonstrates the government's desire to consolidate control of a rare resource in Syria's war-ravaged economy: property.
"Land has lots of advantages. What else can they do? Manufacturing, agriculture, banks? No, land. It is very clear," says Yazigi.
In the interim, those left stranded in areas outside regime control have little recourse, he says.
"This marks the end of any hope for these people to return. If they had some hope, now it is over."