"I swear to God I am unemployed; don't shoot. I'm here only to demand my rights!"
In a 30-second video circulating on social media, a young resident of impoverished Khuzestan, Iran, pleads for his life as the Iranian regime's anti-riot forces attempt to disperse a crowd protesting the water crisis in the province.
Security forces have fatally shot at least four people during protests that erupted in Khuzestan on July 15, and have since spread to Tehran, Karaj, Tabriz and Esfahan, along with smaller protests in a few other cities.
Tehran has deployed special riot police and has brought additional Islamic Revolutionary Guard Corps (IRGC) forces to the region.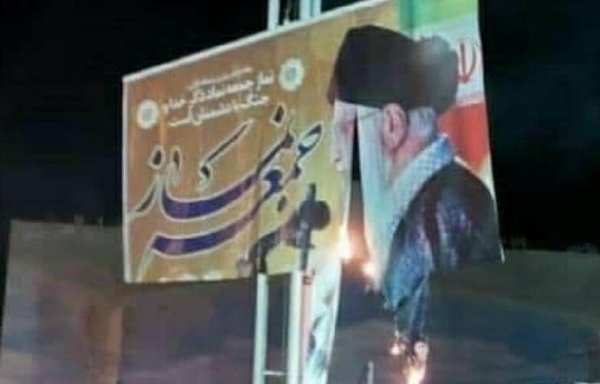 Chants of "Down with the Dictator" and "Death to [Ali] Khamenei" (Iran's supreme leader) were heard at many protests, including those in central Tehran.
On Tuesday (July 27), protesters took to the streets in Baharestan near Esfahan, where they tore up and burned a banner of Khamenei in the town square.
One of the main slogans chanted in protests that have roiled the country over the past two years is "Neither Gaza nor Lebanon; I would die for Iran", in a clear sign of discontent with the regime's misplaced priorities.
Iran's regional interference and expansionist policies have cost the Iranian people dearly, with many expressing anger that money funneled to the IRGC's Quds Force and its regional proxies could have been better spent at home.
People pay the price
Even on the brink of bankruptcy, Tehran continues to interfere in the region, and to fund and train its proxy groups in Iraq, Lebanon, Yemen and Syria.
Meanwhile, the Iranian people are enduring extreme economic hardship that has only worsened with the coronavirus pandemic, observers say.
Faced with unemployment, severe stagflation, gross mismanagement of the pandemic and lies and denials about vaccination strategy, Iranians have been braving the extreme heat to gather in protest, despite the crackdown.
Iran has the highest number of COVID-19 infections and deaths in the Middle East. According to official data, as of July 30, some 3.8 million Iranians have tested positive for the virus and more than 90,000 have died from it.
Actual figures are considerably higher, public health specialists say.
COVID-19 variants are rampant, especially in southern provinces, and hospitals are overwhelmed. Hospitals and clinics in Khuzestan and Sistan and Baluchestan have said their patients are being treated on hallway floors.
While official data show that fewer than 4.5 million Iranians (about 5% of the population) have been inoculated so far, the government continues to lie about the production of vaccines and deny the severity of the coronavirus crisis.
Regime officials have repeatedly stated they are in the process of developing eight different COVID-19 vaccines, one of them in partnership with Cuba, but details and data about related operations are murky.
Only one homegrown vaccine has been approved for emergency use by Iran's Food and Drug Administration to date: COVIran Barekat. But scientists have said the data used for developing the vaccine had not undergone sufficient scrutiny.
According to unconfirmed reports, COVIran Barekat has been administered to a number of Hizbullah leaders and members.
Meanwhile, Iran has paid China, Russia and South Korea for vaccines it says it has not received, as those countries have failed to "deliver on their promise".
'Water, work, vaccines'
Amid ongoing chaotic conditions and the burgeoning health crisis, there has been an increase in insurgent activities, such as those of the separatist Arab al-Ahwaziah movement in Khuzestan.
The movement is classified as a terrorist organisation by the Islamic Republic.
Ahvaz's Arab minority has long protested the regime's policies that it says aim to displace them and are focused on suppressing the Ahvazi people. But these are few and far between compared to the magnitude of the recent popular protests.
The majority of the population is asking for water, work, vaccines and proper medical care.
But instead of addressing their demands, the regime has suppressed the protests via violent crackdowns and by disrupting internet service to block communication with the outside world.
On Wednesday, a bill to restrict internet connection was approved by a majority of the parliament (Majles) and sent to committee for further evaluation, bringing the country a step closer to major internet slowdown and filtering.
The restriction will be specifically enforced for social media and messaging applications, with an emphasis on the still-unfiltered Instagram, which a large number of Iranians use.
In reaction to recent restrictions, the US Department of State on Wednesday stated its disappointment with the situation in Iran.
"Protests in Iran that began with a water shortage -- owing to drought and governmental mismanagement and neglect -- in the Khuzestan province have now spread across various cities including Tehran, Karaj and Tabriz," it said.
"The Iranian people are now putting a spotlight not only on their unmet needs, but also their unfulfilled aspirations for respect for human rights."
"We condemn the use of violence against peaceful protesters... We are also monitoring reports of internet slowdowns in the region", it added.