Iranians enraged by blackouts that have hit huge swathes of the country have taken to the streets in anti-regime protests in the past few days.
Thousands of protestors seen on videos posted to social media were chanting slogans such as "Death to the Dictator" and "Death to [Ali] Khamenei" to denounce the Islamic Republic's supreme leader.
The southern province of Sistan and Baluchestan, already experiencing a spike in COVID-19 cases amid the extremely slow pace of vaccinations and the prevalence of the virus's Delta variant, has been suffering particularly from the blackouts.
Golestan, Mazandaran and Gilan provinces also have been without power.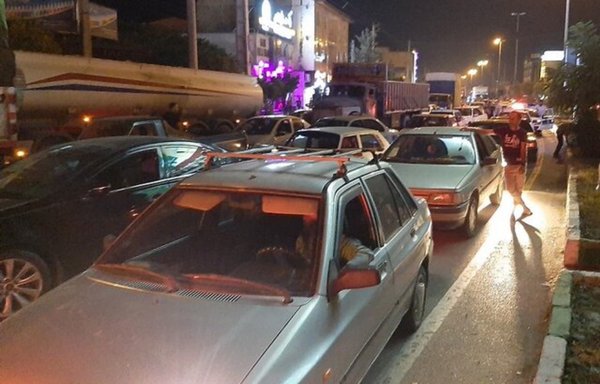 Several hospital directors have reported intensive care unit patient deaths due to the abrupt, lengthy blackouts, which have shut off ventilators, inevitably killing a number of patients hospitalised with COVID-19 or other critical conditions.
Long hours without electricity have disabled factories and smaller manufacturing units and have deprived the population in southern Iran of air conditioning in the sweltering summer heat.
Ahmad Moradi, who represents Hormozgan in the Iranian parliament (Majles), said blackouts are occurring in temperatures that have soared to 50 degrees Celsius, while his province's coronavirus situation is "uber-critical".
Blaming drought, people
No longer able to skirt the issue due to mounting public pressure, Iranian President Hassan Rouhani mentioned the blackouts in a Tuesday (July 6) speech.
He apologised to the public, adding that "it is not the Energy Ministry's fault", and ordered ministry officials to come up with solutions, including pre-planned rationing of electricity, to reduce the duration of outages.
Rouhani reiterated his administration's excuses for the blackouts: drought -- which he said has risen by 52% compared to last summer, and the public's high consumption of electricity in warm weather.
Officials are repeating their plea to the public to use less electricity, and warning against electricity-squandering cryptocurrency mining, which the Rouhani administration has pointed to as a contributing factor to blackouts.
Generating more electricity "is currently almost impossible", Iran's deputy energy minister said Wednesday.
While the government has vowed to take action on the frequent power outages, it has warned Iranians to expect continued blackouts, as the "situation will remain critical for a month", leaving many feeling angry and helpless.
Meanwhile, while Iranian citizens continue to suffer from blackouts, the regime on Tuesday (July 6) informed the International Atomic Energy Agency (IAEA) that it decided to accelerate its enrichment of uranium in defiance of the 2015 nuclear agreement.
These continued violations with world powers, in addition to the years of destabilising actions and decisions by the Islamic Revolutionary Guard Corps (IRGC) in Iraq, Syria, Lebanon and Yemen, have had devastating political and economic consequences for Iran.
Recent demonstrations in Iran have not been limited to protests over blackouts: over the past two weeks, citizens gathered in several major cities to protest stagnant salaries, low wages and unemployment.
Last week, a large number of retired government employees gathered in front of the main social security building in Tehran to protest their low pensions amid skyrocketing prices.
The recent strikes are categorically different from previous ones in that they are more widespread, and have expanded to the oil and gas sector. A large group of truckers joined oil and gas sector workers' strikes last week.
Coronavirus deaths mount
According to official statistics, COVID-19 continues to kill some 150 Iranians a day, while medical observers claim that reality is at least twice that number.
On Wednesday, Tehran Police announced a ban on leaving the capital. Tehran's main cemetery, Behesht-e Zahra, announced it was "on alert" because of the high number of incoming dead, and Tehran's Grand Bazaar has shut down for at least a week because of the spike of COVID-19 cases in the capital.
The coronavirus crisis, exacerbated by the regime's mismanagement and disinformation, has created more-severe economic problems, leaving the already pressured public to face higher prices and fewer jobs.
Meanwhile, the Iranian regime is trying to save face by claiming the production of eight COVID-19 vaccines, an assertion that evoked derision on social media.
Many desperate Iranians are looking elsewhere for a vaccine, with some considering a trip to Armenia, whose government announced that starting July 15 it would offer free vaccines to tourists whose stay exceeds 10 days.
More than four decades ago, the Islamic Republic's founder, Rouhollah Khomeini, promised "free water and electricity" to all Iranians.
Today, millions face extreme heat with no power and high utility prices and are struggling to make ends meet.