The Iraqi government's move to boost ties with neighbouring Arab countries has drawn the ire of Iran and its proxies, whose affiliated media outlets have mobilised against these efforts to manipulate Iraqi public opinion, experts say.
Since the announcement in early November of a Saudi plan to invest in one million hectares of the Anbar and Samawa deserts, militias and factions loyal to Iran have been mounting a concerted campaign against the plan.
These include Kataib Hizbullah, Asaib Ahl al-Haq, al-Nujaba and al-Fatah alliance, a parliamentary coalition headed by Hadi al-Amiri.
Groups widely considered to be fronts for Kataib Hizbullah, such as the Raba Allah group, issued threats against any Saudi investment.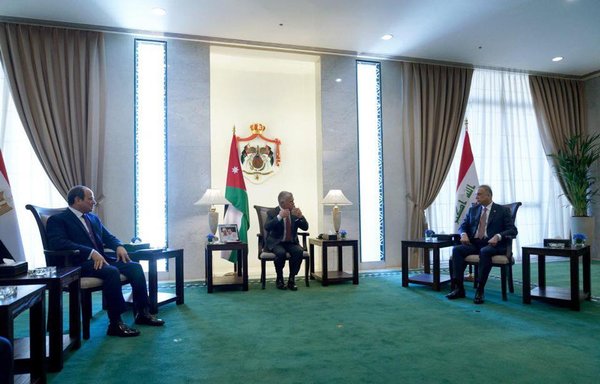 TV channels owned by the militias, including al-Ahed, which is affiliated with Asaib Ahl al-Haq militia leader Qais al-Khazaali, labeled the Saudi investment as an attempt to "colonise the country".
This prompted Iraqi Prime Minister Mustafa Kadhemi to refute the falsehood of "Saudi colonialism" promoted by certain factions on November 18th, describing the slander as "shameful".
Militias seek to control Iraq's resources
Political analyst Adel al-Ashram said the rapprochement with Saudi Arabia "infuriates these militias because they want Iraq to be isolated from its Arab neighbours".
They want Iraq to remain open solely for Iran's investments and "shoddy goods" and as an outlet for reviving its economy at the expense of the Iraqi economy and the interests of Iraqis, he told Diyaruna.
The militias' affiliated media outlets went to extremes to disseminate malicious messages to rally opposition to the warming ties with the kingdom by distorting the political and economic developments and attempting to deceive people by portraying the Saudi investment as "colonialism".
"Those trying to colonise the country are the militias themselves, who are trying to control and steal the country's resources and are violating national sovereignty," Al-Ashram said.
"The militias stand as a stumbling block to any plans or policies to distance Iraq from Iranian influence and are constantly disrupting all investment, so that the country becomes totally dependent on Iran, whose economy is in dire straits," he said.
Saudi Arabia is a country with tremendous resources and capabilities, and its investment in Iraq would contribute to the country's development by reviving construction and providing job opportunities, he added.
Despite the pressure exerted by Iran-aligned militias, the Iraqi-Saudi rapprochement culminated in the conclusion of large-scale economic and developmental partnerships and trade agreements.
Iran's biggest fear
The agreements came amid efforts by the Iraqi government to open up to the Arab world.
A summit held on August 25th in the Jordanian capital Amman between Kadhemi, Jordan's King Abdullah II and Egyptian President Abdul Fattah al-Sisi produced mutual understandings on the conclusion of economic agreements in the energy and oil sectors, intra-trade and investment.
The three leaders agreed on an electric interconnection project that will help Iraq end its dependence on Iran to meet its electricity needs.
Iraq currently imports 1,200 megawatts of electricity from Iran, as well as natural gas to run its power plants which supply its power grid with close to 3,300 megawatts. This ends up costing the Iraqi treasury enormous amounts of money.
Iraqi journalist and rights activist Ahmed al-Hamdani told Diyaruna Iran's biggest fear is for Iraq to return to the Arab fold and build strong economic and strategic ties based on mutual respect and partnerships.
"Iran views any step in this direction as a direct threat to it, as that would deprive it of the enormous amounts of money it earns from its export of various goods and products to Iraq," he said.
Tehran aspires to increase the volume of trade with Baghdad to about $20 billion annually.
Baghdad resident Abu Alia, who asked to use a pseudonym, said he rejects the attempts by the Iran-backed militias and affiliated satellite channels to block the government's rapprochement with Arab countries.
"The establishment of close relations with the Arab world not only helps Iraq economically but also weakens Iran's nefarious influence," he told Diyaruna.
"We are on the right path in terms of ending Iran and its allies' influence, but we need to do more," he said.