The reopening of the Arar border crossing between Iraq and Saudi Arabia is a further sign of warming ties between the two neighbours and will have tangible benefits for the Iraqi people, Iraqi officials and regional observers said.
The crossing, which links the western province of Anbar with the kingdom, was officially reopened on November 18th after a 30-year closure. It was originally scheduled to reopen in October 2019, but was delayed several times.
The two countries also are exploring the reopening of a second border point at al-Jumayma, along Iraq's southern border with the kingdom, AFP reported.
Baghdad sees Arar as a potential alternative to its crossings with Iran, through which Iraq brings in a large share of its imports.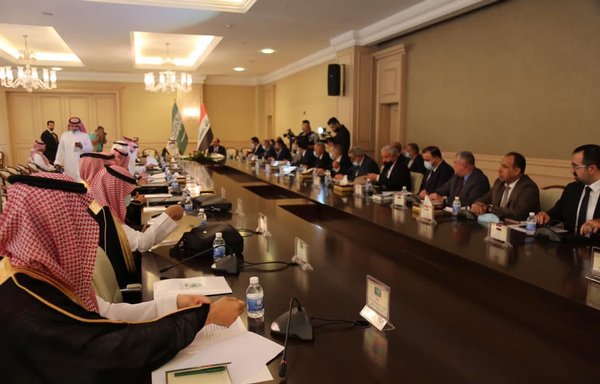 Meanwhile, Iraqi Prime Minister Mustafa Kadhemi's government has sought to fast-track foreign investment including Saudi support for energy and agriculture.
The Iraqi government anticipates this step will support investment and development, while Iraqi observers who spoke with Diyaruna expressed support for the Iraqi-Saudi rapprochement, saying this indicated a shift away from Iran.
Anbar's deputy governor Mustafa al-Arsan said the reopening of the crossing was "the culmination of the collaborative meetings between Iraq and Saudi Arabia that have been going on for nearly two years".
The crossing was rebuilt with $75 million in Saudi financing, he told Diyaruna.
It includes various buildings, service facilities, yards for commercial freight and passenger traffic, X-ray screening systems, a truck weighing system and two electricity and water purification stations.
In recent years, the Arar crossing has been opened in a limited capacity to allow the passage of hajj and umrah pilgrims, he said, adding that with the official reopening it will once again be used for trade and commerce.
The crossing "will serve as a gateway and vital economic artery for Iraq", he said, noting that "resuming travel and intra-industry trade with Saudi Arabia will generate revenues for the state treasury, create jobs and revive the local economy.
Strengthening Iraqi-Saudi ties
The Saudi-Iraqi Co-ordination Council, established in 2017 to improve ties between the two countries, facilitated the reopening, meeting a number of times before the official ceremony.
A large Saudi delegation visited Baghdad on November 8th to finalise investment agreements in the agricultural and industrial sectors that are worth billions of dollars.
A Saudi-Iraqi summit was held via closed-circuit television on November 10th, bringing together Kadhemi and Saudi Crown Prince Mohammed bin Salman.
This helped to lay the groundwork for political, security and economic co-operation, opening the doors for Saudi companies to invest in Iraq.
As a next step after the reopening of Arar crossing, a Saudi commercial attaché will be designated to serve Baghdad.
Al-Arsan said Saudi Arabia has significant experience in a host of sectors, including agriculture and livestock, and can help Iraq develop its resources through major investment projects.
This type of development assistance will support Iraqis on the economic, services and developmental levels, he said.
Iraqi MP Yahya al-Mohammadi stressed the importance of promoting and strengthening the Iraqi partnership with Saudi Arabia.
This will contribute to the development of the Iraqi economy and the creation of close relations that are mutually beneficial to both countries, he told Diyaruna.
"We hope that the opening of the Arar crossing will be the beginning of large-scale commercial activity between Iraq and Saudi Arabia, and an introduction to investment projects and a broad Saudi openness that contributes to serving the efforts of reconstruction and development and attracting investment," he said.
"Iraq now provides a fertile investment environment," al-Mohammadi said.
He noted that it is necessary for Iraq to open up to and establish co-operation with other Arab countries as well as building balanced partnerships and relations within its regional environment based on the principle of mutual interests.
Opposition from pro-Iran factions
The opening of the crossing and the Iraqi-Saudi rapprochement have angered pro-Iran factions, which have threatened to stand against this step, Iraqi observers said.
Ahead of Arar's opening, one such group identifying itself as Ashab al-Kahf published a statement announcing its "rejection of the Saudi project in Iraq", AFP reported.
Kadhemi denounced these threats in a November 17th press conference, stressing that his government is moving towards closer relations with Saudi Arabia and opening its doors to Saudi investments.
Iraqi-Saudi rapprochement will increase Iran's international isolation and deprive it of the economic benefits it reaps from exporting to the Iraqi market, observers said.
Close Iraqi-Saudi ties also will impact Iran's influence and its efforts to shackle Iraq with security and economic agreements that do not serve its interests, they told Diyaruna.
Iraqis have repeatedly called on Iran to end to its hostile policies and to stop making threats through its proxies, Iraqi Centre for Strategic Studies head Ghazi Faisal Hussein told Diyaruna.
Yet Iran continues to fund its proxies in Iraq and to supply them with weapons and missiles in order to destabilise, control and exploit Iraq and its resources, he said.
Iraq is a sovereign state, and has the right to establish integrated relations with everyone, he said, based on its own strategic interests and a balanced policy.
"As for Saudi Arabia, it is a rich and developed country across several fields and is considered the fifth most powerful country in the world," he added.
The two countries also share family and tribal ties, as well as historical ties and other commonalities, he said, noting that "Saudi Arabia has played a positive and constructive role" in Iraq.
"It is important for Iraq to take advantage of available Saudi capabilities, especially in terms of investment," he said.
Saudi agricultural investment in Iraq -- which includes the reclamation of thousands of hectares of agricultural land and the establishment of large-scale food and production industries -- is of critical importance, he added.