Two Yazidi civilians were killed Thursday (November 12th) when "Islamic State of Iraq and Syria" (ISIS) militants opened fire on them in the town of al-Qahtaniya in Sinjar district.
The same day, three mortar shells targeted the town of Wana in Tal Keyf district (east of Mosul), causing no casualties.
Since early November, terrorist operations have grown more intense in some areas of Iraq, with the most violent attack last Sunday on a lookout point west of Baghdad manned by a state-sponsored tribal force.
ISIS militants threw grenades and fired on tribal forces operating under the auspices of the Popular Mobilisation Forces (PMF) stationed at al-Radwaniyah, killing five members of the PMF and six local people who had come to help repel the attack.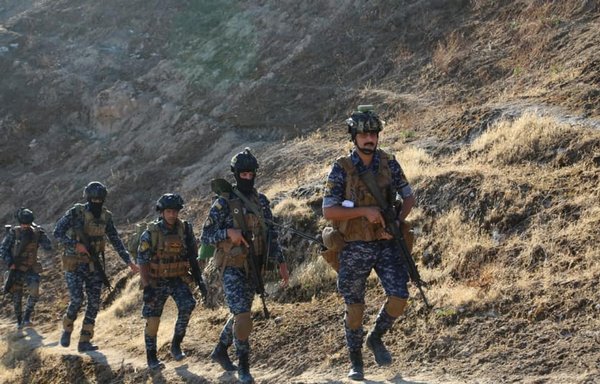 Tahseen al-Khafaji, spokesman for the Joint Operations Command, said an investigation is underway of a person suspected of having links with the al-Radwaniyah attackers.
Information indicates that the perpetrators met at his home an hour before the attack, he told Diyaruna Thursday.
"That attack is a warning bell that ISIS remnants are attempting to wake their sleeper cells to carry out swift operations in response to the blows they have been receiving," former Baghdad provincial council member Saad al-Matlabi told Diyaruna.
These are sporadic attacks aimed at disrupting security efforts, he said. They do not mean that the radicals' capabilities have improved or their tactics have changed.
Heightened vigilance
As a response, Iraqi army and federal police units are conducting this week two military campaigns against ISIS remnants, the first in the mountains of Salaheddine province, and the second in Ninawa Island and the western Anbar desert.
They have also beefed up their deployment in the northern and western outskirts of the capital and intensified their search of agricultural villages.
According to al-Matlabi, there are people who still believe in ISIS's ideology and help host the terrorists and provide them support.
"It is the security forces' duty to step up intelligence activities to identify and fight these incubating cells," he said.
"This calls for close co-ordination with the local population in order to increase their trust in the security forces," he said. "Military deployment alone is not enough."
Iraqi Prime Minister Mustafa Kadhemi held on Wednesday a meeting with the Ministerial Council for National Security to discuss security developments in the country.
Kadhemi directed all forces "to continue pre-emptive operations in order to deny terrorist groups any opportunity [to regroup]", according to a statement from his office.