Iraqi forces this week launched the second campaign in over a month to seize unlicensed weapons and arrest wanted individuals, with a renewed focus on the capital, Baghdad.
The new operation, which kicked off Tuesday (October 20th), aims to assert the state's authority over individuals and groups in possession of illegal weapons, an Iraqi military spokesman told Diyaruna.
Previously, the Joint Operations Command had on September 5th launched a series of operations dubbed "Real Promise", to seize unlicensed weapons in the provinces of Basra, Maysan, Muthanna and Dhi Qar in southern Iraq, as well as the tribal al-Fadiliya and Huseinyat al-Maamel areas in Baghdad.
"We have now returned to the capital, with the intention of moving the campaign to other provinces, such as al-Diwaniya and al-Nasiriya," said Maj. Gen. Tahseen al-Khafaji, a spokesman for the Joint Operations Command.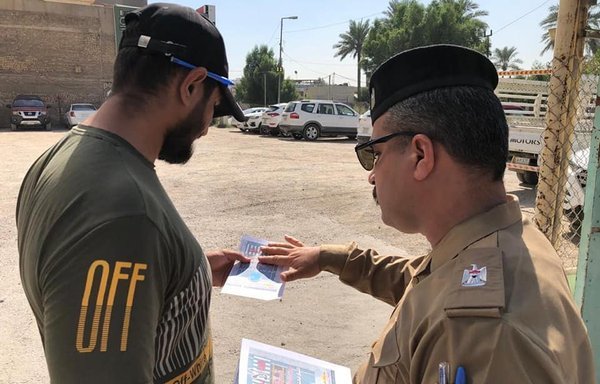 The new campaign is part of ongoing operations carried out per the orders of Prime Minister Mustafa Kadhemi, with the participation of the army, police and intelligence commands, he told Diyaruna.
Security forces are disarming violators and arresting them in accordance with the law, he said, noting that "anyone who does not comply with orders to surrender a weapon would be risking their life".
The governments seeks to put an end to the possession of arms "by people who do not operate under state institutions and who try to undermine the rule of law and disturb public order", he said.
Security campaigns yield results
Large quantities of weapons have been confiscated so far, including machine guns, rifles, hand grenades and pistols.
Medium weapons, including PKC machine guns, RPG rocket launchers and various ammunitions, were also seized.
The campaigns to seize unlicensed weapons have been "widely welcomed by local residents and tribal dignitaries, who support our efforts and co-operate with us by providing information about weapons caches", al-Khafaji said.
Iraqi forces have been conducting public awareness activities to stress the importance of abiding by the law and warn against the dangers of illegal weapons.
These efforts have achieved "good results", he said, as the proliferation of weapons and the frequency of armed tribal conflicts have "greatly diminished" in the past period.
"But despite these positive indicators, we will continue our efforts to limit the possession of weapons to members of the security forces," he said.