Local police in Anbar province announced in early June they are fortifying several branches of their forces tasked with protecting intercity roads and highways.
The forces have been equipped with the most updated weaponry in an effort to confront any terrorist attempts that endanger these roads and the lives of travellers on them.
"Intercity roads in Anbar are fully protected," Brig. Gen. Farouq al-Jughaifi, western regional commander of the Anbar police force, told Diyaruna.
"We have a significant number of troops deployed along these roads that stretch from Ramadi in the west towards the districts of Heet, Haditha and Anah, all the way to al-Qaim," he said.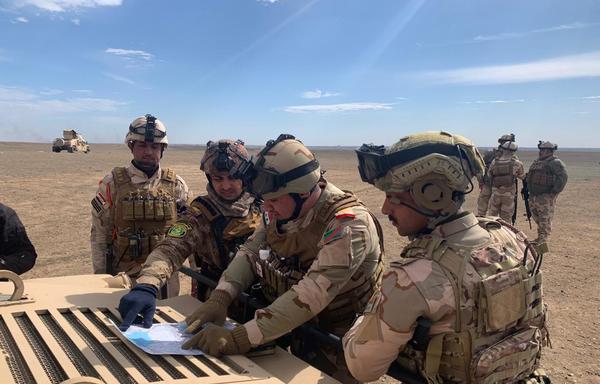 Police are also deployed on the international highway that stretches from Ramadi through al-Rutba district to the border with Syria and Jordan, and on the al-Nakhib road, he said.
More manpower, equipment
Emergency regiments from the Anbar Police Directorate of Intercity Roads Protection have recently been reinforced with more manpower, state-of-the-art weaponry and surveillance equipment, al-Jughaifi said.
Nearly 400 new security personnel have joined the directorate and will be deployed to secure roads along the Kilo 5 and Kilo 160 highways in the western Anbar desert.
The additional number of troops has allowed the police force to set up more checkpoints and surveillance posts along the roads, he said.
Other enhancements include increasing the number of night patrols, laying ambushes and taking a leading role in securing desert areas in co-operation with other military and security forces.
Police have also been supplied with thermal cameras, surveillance equipment, military vehicles and rocket launchers to support their efforts and security missions.
"The police, army units and tribal forces conduct periodic security duties to comb desert areas along intercity roads," al-Jughaifi said.
Over the past few weeks, those forces have led reconnaissance missions and offensive operations deep into the western Anbar desert that have resulted in the death of several extremists, including three in al-Mudham and four in al-Sukariyat.
Sheikh Barzan al-Obeidi, a tribal leader in Anbar, said tribal fighters "are a strong supporting factor for efforts to secure the province and particularly its roads".
"We are co-ordinating with all military units to conduct joint search operations in the desert area in order to close any [security] gaps that could be used by the enemy to disrupt people's travel or the transport of goods," he told Diyaruna.
'Roads are safe'
Terrorist threats are declining, he said, noting that intercity roads, even in the remotest desert areas, are safe and have not witnessed any security breaches in a long while.
Al-Obeidi noted that his forces now have hundreds of trained fighters who are ready to defend their towns and ensure the safety of all vital projects and services.
He called for further expansion of operations to control, protect and seal the western border in order to prevent the infiltration of terrorist elements who hide in the area's valleys and caves.
Intercity roads play a major role in transporting civilians travelling outside Anbar or within its far apart districts.
These roads also represent a lifeline for the province as they are land routes used for transporting and importing goods.
Anbar Investment Commission head Mahdi al-Noman told Diyaruna that road and highway security is of utmost importance, both on the public service level and the economic level.
"Thanks to the strenuous efforts of the security forces, we notice how these roads have become safe and how traffic flows smoothly compared to previous years," he said.
Al-Noman noted that his province has repaired several roads linking Anbar's districts, including the Heet-Haditha-Rawa highway, as well as roads leading outside the province such as the Fallujah-Samarra junction.
There also is ongoing development and maintenance work on highways leading to the neighbouring countries of Jordan, Syria and Saudi Arabia.