The Kremlin is using an old playbook -- the deployment of mercenaries to carry out Moscow's interests with plausible deniability -- in a new playing field: Libya.
The Wagner Group -- mercenaries who carry out the agenda of Russian President Vladimir Putin -- have popped up in various other front lines in recent years, from Ukraine to Syria, Venezuela, Sudan, the Central Africa Republic and Madagascar, among others.
But as the Kremlin expands its operations around the world, its latest front for meddling and manipulation should serve as a warning to sovereign nations, observers say.
The mercenaries -- which number between 800 and 1,200 according to the UN Security Council -- are buoying Libyan military strongman Khalifa Haftar's attempts to take over the country from the internationally recognised Government of National Accord (GNA).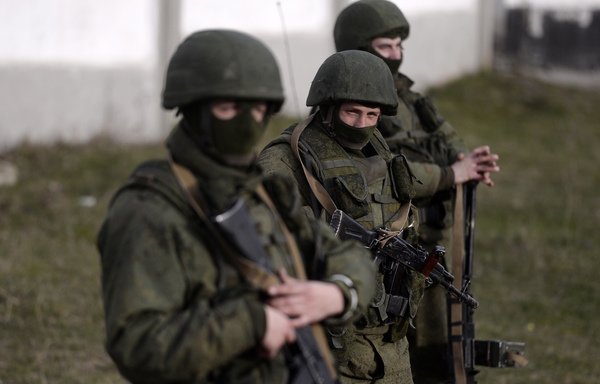 Moscow caught red-handed
The benefit of using an ostensibly private military contractor such as the Wagner Group is that Moscow can realise its interests while keeping the Kremlin's hands clean.
The reality, observers say, is that the Kremlin's backing of the mercenaries is obvious.
For example, Moscow recently deployed fighter aircraft to Libya to support Haftar and the Wagner mercenaries fighting on his behalf, the US military said May 26th, providing extensive visual evidence backing up the claim.
"Russia is clearly trying to tip the scales in its favour in Libya," said US Africa Command (AFRICOM) commander Gen. Stephen Townsend. "Just like I saw them doing in Syria, they are expanding their military footprint in Africa using government-supported mercenary groups like Wagner."
"For too long, Russia has denied the full extent of its involvement in the ongoing Libyan conflict," he said. "Well, there is no denying it now. We watched as Russia flew fourth generation jet fighters to Libya -- every step of the way."
The Wagner Group is also accused of using chemical weapons in the Libyan capital of Tripoli, Al-Araby Al-Jadeed reported April 23rd, citing GNA Interior Minister Fathi Bashagi.
The chemical attack was "Russian style", examples of which can be seen in Syria, where Moscow is supporting Syrian President Bashar al-Assad, pointed out observers.
"Russia is executing the same playbook as successfully employed in Crimea, Ukraine and to a lesser extent in Syria," said US National Guard Brig. Gen. Gregory Hadfield, AFRICOM deputy director for intelligence, on May 29th. "Russia has proved its willingness to violate sovereign nations and appears willing to do the same in Africa."
Follow the money
Moscow's "shadow army" has been mixing its role in the two hot spots, operating a massive recruitment drive luring desperate Syrian youths to fight as mercenaries in Libya.
In a number of audio recordings and texts, an official in the Syrian National Youth Party calls for youth to sign up to serve as mercenaries under the supervision of the Wagner Group.
He offers monthly salaries in Libya of "$1,000 for those who volunteer to guard the installations, and $1,500 for those who volunteer in fighting groups; in addition to additional compensation for the families in case they get killed or go missing in action".
The Russian army is meanwhile recruiting youths from Douma -- the site of a chemical weapons attack in April 2018 blamed on the Syrian army and its Russian allies -- enticing them with large sums of money, Al-Sharq al-Awsat daily reported in February.
Russian aircraft have been transferring members of the Wagner Group and military equipment from its Khmeimim base in Syria to Benghazi, Libya.
Meanwhile, the Kremlin has been filling the coffers of the parallel central bank supporting Haftar's Libyan National Army (LNA).
The Russian state-owned company Goznak delivered the equivalent of some $7.11 billion in phony Libyan money between 2016 and 2018 to the parallel central bank affiated with Haftar, said UN analysts.
"This incident once again highlights the need for Russia to cease its malign and destabilising actions in Libya," the US State Department said in a statement May 29.
Who's next?
It is evident that Putin and his cronies are expanding the Wagner Group's operations across the world, but the conflicts in Syria and Libya are of particular importance to Moscow for a number of reasons, observers say.
Wagner carries out military operations in countries where the Kremlin has strategic, geopolitical interests.
Syria is a strategically important location for Russia because it provides access to the entire eastern Mediterranean and serves as a gateway to the whole Middle East, said Talgat Ismagambetov, a political analyst from Almaty who formerly worked at the Kazakhstan Institute for Strategic Studies.
After the Russian regime lost support in the Middle East as a result of its occupation of Syria, he said, the Kremlin turned its attention to Libya, which has potentially immense geopolitical and economic advantages.
Russia wants to have a share in Libya's oil industry, which, in addition to immense profits, offers geopolitical leverage, Ismagambetov said.
"In controlling Libya, Putin will be able to influence the situation in Europe -- he can influence Italy's decisions or realign Germany's position -- in other words, he can influence the situation of countries that consume Libyan oil," he said.
"Libya is also convenient because it is located in the middle of the Mediterranean, where Russian naval forces could be based," he said.
"If Russia seizes basing on Libya's coast, the next logical step is they deploy permanent long-range anti-access area denial capabilities," said Gen. Jeff Harrigian, commander of US Air Forces in Europe-Air Forces Africa.
"If that day comes, it will create very real security concerns on Europe's southern flank."
Possibilities in Central Asia
The Wagner Group first surfaced in 2014 in eastern Ukraine, where former Russian military personnel -- dubbed "volunteers" by Moscow -- joined the ranks of pro-Russian separatist forces, eventually leading to the illegal annexation of Crimea.
Initially, the group filled its ranks with disgraced ex-military types, thugs and ex-convicts who sought money and adventure, but over the years, the Wagner Group's tactics have changed.
Following the Kremlin's operations in Ukraine, Syria and Libya, among other hot spots, the prospect of Russian mercenaries appearing in Central Asia has aroused some alarm.
"If a country where Russia has an interest and which it calls a partner begins to do something that conflicts with Moscow's geopolitical interests, then 'uninvited guests' may appear there," said Maj. Dauren Ospanov, a retired Kazakh army officer in Almaty.
Central Asia, as a long-time region of strategic interest to Russia, is already confronting the passive phase of a hybrid war waged by Moscow, observers say.
These efforts can be seen in Kyrgyzstan, where during the revolutions of 2005 and 2010, the Kremlin sought to influence political, economic and social processes, said Aidar Amrebayev of Almaty, director of Kazakhstan's Centre for Applied Political Science and International Studies.
"Kazakhstan is now... experiencing the passive phase that Ukraine went through before 2014, when Russia was already trying to influence various processes in Ukraine," he said.
Ospanov, the retired Kazakh army officer, does not rule out the possibility that Wagner mercenaries could show up in a Central Asian country.
"Such a scenario is likely if, say, a country in this region radically changes its... policy to... co-operate with Western countries and begins to disengage from Moscow's influence, as happened in Ukraine," he said.
[Kanat Altynbayev from Almaty contributed to this report]