The partnership between the Syrian Democratic Forces (SDF) and the international coalition has been key to maintaining security in north-east Syria post "Islamic State of Iraq and Syria" (ISIS), SDF officials told Diyaruna.
The Special Operations Joint Task Force-Operation Inherent Resolve (SOJTF-OIR), the US-led special operations arm of the international coalition, has been co-ordinating with the SDF to eradicate ISIS remnants and sleeper cells.
On May 17th, the SDF with support from the US-led coalition carried out operations against ISIS in eastern Deir Ezzor for two consecutive days.
The operation resulted in "the arrest of several cell elements and leaders" as well as the seizure of military equipment and weapons, the SDF's co-ordination and military operations centre said in a statement.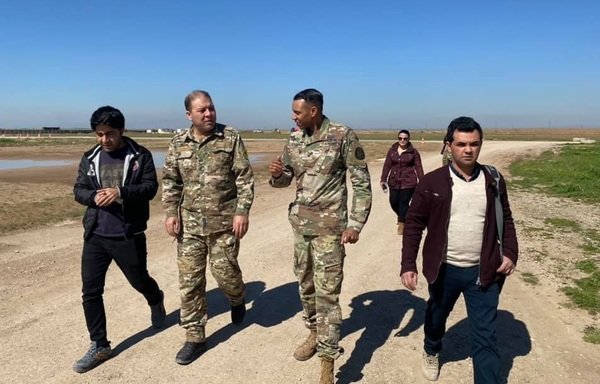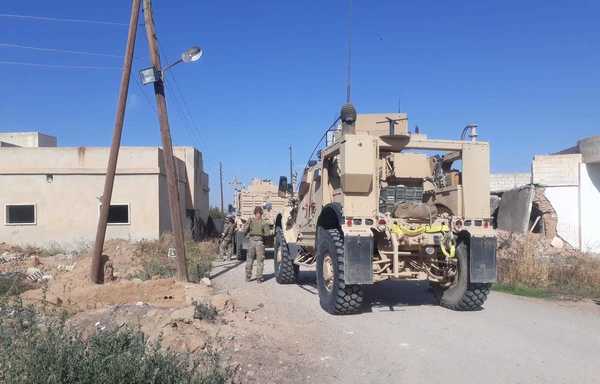 One week later, SDF Commander-in-Chief Mazloum Abdi held a meeting with US Maj. Gen. Eric Hill, who commands SOJTF-OIR, to discuss the fight against ISIS.
The two discussed "the increased partnered operations against ISIS's failed attempts to use terrorism during Ramadan and the COVID-19 pandemic to wrongly rebuild", said SOJTF-OIR in a statement.
In addition to joint operations against ISIS, the two commanders discussed a strategy "for continued humane detention of the 10,000 ISIS detainees in SDF-run facilities across north-east Syria and how to garner support [to] solve this international problem in the long term".
The coalition provided some $1.2 million worth of supplies in May to prevent a potential outbreak of the novel coronavirus inside the facilities, as well as riot gear for prison guards.
Strategic partnership
The strategic partnership between the SDF and coalition forces has laid the groundwork for future collaboration, said SDF spokesman Kino Gabriel.
"We have been able over the past five years to completely stamp out the ISIS terrorist group in northern and eastern Syria," he told Diyaruna.
"We continue to hunt down ISIS remnants, after having dismantled dozens of sleeper cells and arrested or killed dozens of terrorists," he said.
This partnership must continue in order to fully ensure security and stability in northern and eastern Syria, Gabriel said, as it has already helped establish stability in liberated areas such as Manbij, Tal Abyad, Kobani and al-Tabqa.
Additionally, the situation in Deir Ezzor areas liberated from ISIS is increasingly more stable, he said.
The partnership with the coalition is not limited to military co-ordination, Gabriel said, as both sides work to "foster an environment conducive to the return of residents to their homes and ensuring a better life for them".
Alongside military operations, the SDF is working to restore normal life to residents in areas under its control by rehabilitating key services, al-Hasakeh activist Ammar Saleh told Diyaruna.
These include water, electricity, infrastructure and service institutions, he said.
This is being done through the support provided by the coalition to local councils, which has already helped secure basic services, rebuild bridges and repair sewage systems, he said.
The coalition also provides specialised training for health workers in order to meet the residents' medical needs, said Saleh.
"There is no comparison between [Syrian] regime and SDF-controlled areas," he said, noting that residents of areas controlled by the regime and allied militias live under very poor conditions.
Shepherds in Deir Ezzor have suffered numerous violations at the hands of local militias, he said, citing a recent incident where members of the Russia-affiliated Liwa al-Quds militia stole livestock from shepherds in Deir Ezzor.
On May 22nd, Liwa al-Quds militiamen in Deir Ezzor staged a fake clash in the area where shepherds graze their sheep in order to persuade them that a fight with ISIS elements was underway, leading the shepherds to flee the area and abandon their livestock.
Laying groundwork for peace
The international coalition and the SDF have a "special relationship whose impact on combating terrorism affects not only Syria but the Middle East and the world", said Sihanouk Dibo, a member of the SDF's political wing in the autonomous administration of north and east Syria.
There is a need for this partnership to continue as ISIS remnants attempt to resume activities and carry out terror attacks, he told Diyaruna.
The success of this partnership will lead to progress toward implementing UN resolution 2254 and the outcomes of the Geneva and Vienna peace talks to reach a political solution to the Syrian conflict, he said.
Resolution 2254 calls for peace negotiations, the drafting of a new constitution and UN-supervised elections.