Tribesmen in Syria's al-Hasakeh province have been angered by a local tribal leader's reception of a Russian delegation that included Russian army and military police as well as Syrian regime officers, a local activist said.
The tribal leader had previously co-ordinated with Iran's Islamic Revolutionary Guard Corps (IRGC) to boost the influence of the IRGC and affiliated militias in the al-Jazeera region, al-Hasakeh activist Ammar Saleh told Diyaruna.
This contravenes the political leanings of the local population, who reject the Iranian and Russian presence, he said.
Dozens of al-Hasakeh tribesmen censured the Russian military delegation's visit to the Harb tribe's Sheikh Mahmoud Mansour al-Akoub, saying in a statement they rejected al-Akoub's action.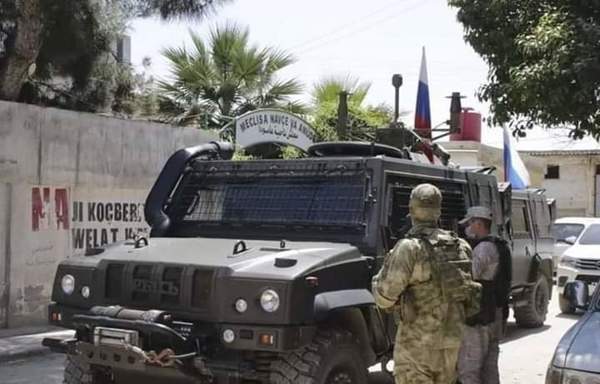 They described this as an individual act that does not reflect the leanings of Harb tribesmen, who reject Russia's presence and its attempt to sway the tribes of the region in order to marshal their youth into various militias.
This includes either forming militias loyal to Russia or recruiting youth to serve in the Wagner Group and sending them to fight in Libya.
Saleh noted that the Harb tribe is widespread in al-Jazeera region.
The meeting was held at the tribe's guesthouse in al-Qamishli, he said, with members of the Syrian regime forces and Russian army and military police officers in attendance.
"There were notably few Harb tribesmen present," he said, pointing out that the only ones to attend the meeting were a handful of tribesmen close to al-Akoub.
Harb tribesmen last year disavowed al-Akoub's actions, on account of his close relationship with Syrian regime forces as well as the IRGC, Saleh said.
Al-Akoub visited Iran in late 2019 as part of a delegation of tribes loyal to the Syrian regime, and met with Iranian officials, after which he agreed to support the regime and IRGC militias, he said.
This support for the IRGC has included disseminating the doctrine of Wilayat al-Faqih (guardianship of the jurist), which calls for allegiance to supreme leader Ali Khamenei in the region, in exchange for various privileges.
Iranian foreign minister in Syria
Iran's Foreign Minister Mohammad Javad Zarif was meanwhile set to meet Syrian President Bashar al-Assad in Damascus on Monday (April 20th), Tehran said over the weekend, in what would be their first official meeting in a year.
The ministry announced the move in a Sunday statement, AFP reported, noting that Zarif planned to travel to Damascus for a one-day visit to discuss bilateral relations and regional developments, among other matters.
Zarif also was scheduled to meet his Syrian counterpart Walid al-Muallem, the ministry said.
Iran and Russia are the Syrian regime's main allies.
Zarif previously met al-Assad during a visit to Damascus in April last year.