Iraq's President Barham Saleh on Wednesday (January 8th) condemned Iran's missile strikes on Iraqi bases where US and other foreign troops are based, saying he feared "dangerous developments" in the region.
"We denounce the Iranian missile bombing that hit military installations on Iraqi territory and renew our rejection of the repeated violation of state sovereignty and the transformation of Iraq into a battlefield for warring sides," his office said.
Iran launched a volley of missiles early Wednesday in response to the killing of Islamic Revolutionary Guard Corps Quds Force (IRGC-QF) commander Qassem Soleimani in a US strike in Iraq last week.
The missiles targeted Ain al-Assad airbase in western Iraq and a base in Erbil, both housing US and other foreign troops deployed as part of the international coalition fighting the remnants of the "Islamic State of Iraq and Syria" (ISIS).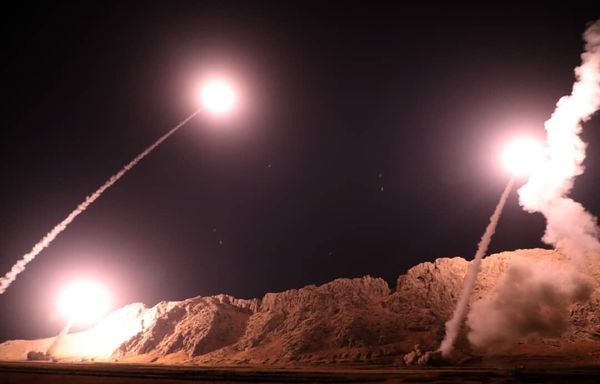 Iraqi parliament speaker Mohammed al-Halbousi also condemned the salvo of missile strikes on Iraqi bases as a "violation of Iraqi sovereignty".
Al-Halbousi called for urgent measures to stop Iraq being turned into a proxy battlefield for outside powers, including Iran.
"While we condemn the Iranian violation of Iraqi sovereignty at dawn today... we confirm our absolute refusal to the conflicting parties to use the Iraqi arena to settle scores," he said.
Iraqis denounce attack
Iraqis who spoke with Diyaruna on Wednesday described the Iranian missile attack on Iraqi military bases hosting international coalition forces as "brutal aggression" and a "flagrant violation of Iraqi sovereignty".
The Kurdish Region's interior ministry announced there had been no injuries or material damage in the bombing of the coalition headquarters in Erbil.
The strikes are "a brutal aggression by Iran's regime against Iraq", Salaheddine council of tribal elders' secretary-general Thaer al-Bayati told Diyaruna.
"What happened is a criminal attack and a flagrant violation of our country's sovereignty," he said.
"This was an attack on Iraqi territory and camps hosting soldiers from the coalition forces," he said, describing the strikes as "a declaration of war".
Attacks of this nature are "criminalised by the Iraqi constitution and all international conventions and norms, which assert that countries' sovereignty and the integrity of international security must be kept", he added.
The Iranian regime sought to respond to the killing of Soleimani in Baghdad, totally disregarding the principles of good neighbourliness and respect for bilateral relations with Iraq, al-Bayati said.
In so doing, he said, it has exposed "Iraqi lives and interests to danger, solely for the sake of blind revenge, without even considering that the bases do not host only US forces but ones from different countries".
"What happened at dawn today is an Iranian escalation that did not come only out of revenge, but there are other goals," he noted.
These include "seeking to drag Iraq and the region to war and chaos" while also "asserting [Iran's] influence in Iraq, which today faces popular demonstrations rejecting Iranian hegemony", he added.
'Firm stance on Iran aggression'
"The international community is called upon to have a firm stance towards the Iranian aggressions and interventions, and the crimes committed by its agents against the Iraqi people," al-Bayati said.
These crimes include firing on protestors on Tuesday evening and setting fire to the tents of demonstrators in Basra and Nasiriyah who reject Iran's actions, he said.
Tribal chiefs in all of Iraq, from south to north, intend to "hold a large tribal conference in Erbil soon to discuss unifying their voice and positions regarding Iranian terrorism and its militias".
The Iraqi tribal leaders will seek to save the country "from the danger of slipping into the unknown", al-Bayati said.
The Iranian bombing "shows the Iranian regime's criminal policy", said a Baghdad resident who asked to be identified simply as "Marwan".
The Iranian regime and its militias "do not care about the Iraqi people's lives and do not wish well for them, and that is what Iraqis have explicitly emphasised in their anti-Iran protests", he told Diyaruna.
"These are Iran's true colours," said a Baghdad resident who identified herself as "Shahd". "This attack is yet another crime of that regime and evidence of its disregard for our lives and disrespect for our country."