As part of its efforts to suppress large-scale popular protests across the country, the Iranian regime has brought in affiliated militias from neighbouring Iraq.
The involvement of Iraqi militias in the repression of Iranian protests makes it clear that the Iranian regime, via the Islamic Revolutionary Guard Corps (IRGC) and its affiliates, will use any means to protect itself from dissent.
Protests that broke out in Tehran on November 15th were ignited by a price hike on fuel and quickly spread to 22 Iranian provinces, or about 70% of the country.
The US on Thursday (December 5th) said Iranian authorities may have killed more than 1,000 people since the protests began.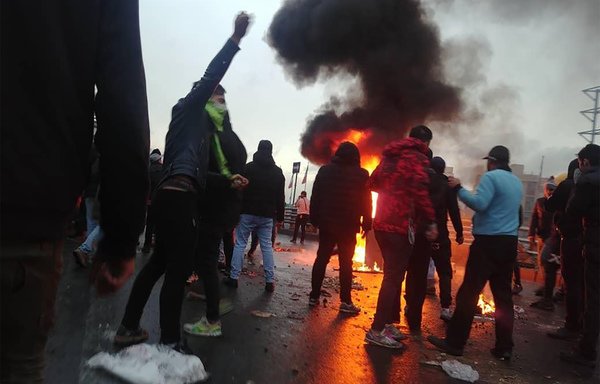 US special envoy for Iran Brian Hook acknowledged that information was difficult to verify but said: "We know for certain it is many, many hundreds."
Earlier this week, Amnesty International said the death toll from the protests was at least 208, with the actual figure expected to be much higher.
Iran-aligned Iraqi militias on November 18th joined the Basij Resistance Force, a paramilitary group affiliated with the IRGC, in confronting protests in al-Jarahi in southern Ahwaz.
Twelve protestors were killed and four were wounded in this area, while three other protestors were killed in the nearby city of al-Koura.
Use of 'brutal force'
"This regime is being violently shaken and it has detected this threat early on," strategic and security researcher Abdul Qader al-Nayel told Diyaruna.
This is why the regime called in its Iraqi proxies, he said: to suppress mass protests that escalated from calls to abolish the gas price increase to demands to do away with the doctrine of Wilayat al-Faqih (Guardianship of the Jurist).
The Iraqi militias, whose survival is linked to the Iranian regime, "did not hesitate to respond, and did their job to defend the regime's leaders and support the IRGC by using brutal force to quell the Iranian protests", he said.
By taking such actions, the militias "unequivocally confirmed the brutality of the Iranian regime", al-Nayel added.
The regime allowed Iraqi militias to cross into Iran and help it confront the protests, he said, which shows Iran's disregard for the lives of its people.
The Iranian people have come out against the regime because they know "their wealth is being plundered by a small group of people in power", he added.
This elite circle has been "stealing their resources and using them to fund the IRGC and its external proxies as they interfere in the affairs of other countries, which is not in the interest of the Iranian people", al-Nayel said.
"Most Iranians are suffering from hardship as a result of being governed by leaders who only look after themselves," he added.
Excessive force sanctioned by the Iranian regime against its own people shows it has "no moral compass", he said.
"They now find themselves in a predicament and have no ability to suppress the will of their people in spite of murdering and kidnapping protestors and blocking internet access," al-Nayel added.
Crossing 'red lines'
According to Hook, "many thousands" of Iranians have been wounded in the demonstrations and at least 7,000 protesters have been detained.
Many have been "locked up under flimsy charges", political analyst Ahmed Shawqi told Diyaruna, pointing out that the Iranian regime "has crossed so many red lines in order to crush the protests".
The IRGC ordered Basij forces to put down protests in south-western parts of the country, including Ahwaz, in collaboration with Iraqi militias, he said.
The intervention of Iraqi militias shows these militias are "prepared to do whatever it takes to protect the Iranian regime from collapse", he said, as that also would end the support they receive to operate in Iraq.
These militias also have been violently suppressing Iraqi protestors who demand an end to the IRGC's influence, he added.
"During the early days of the Iranian regime's ascent to power, the IRGC was created as a blunt instrument that is a parallel force to the Iranian army," he said.
This move was prompted by the Iranian regime's mistrust of its own people, he said, noting that this "explains the regime's strong response by mobilising its militias to resist public pressure in Iran and to maintain its foreign influence".