Reconstruction is ready to begin in earnest at Mosul's airport now that improvised explosive devices (IEDs) and mines planted by the "Islamic State of Iraq and Syria" (ISIS) have been cleared from the area, local officials said.
The anticipated return to service of the city's civilian airport is expected to have a significant impact on supporting reconstruction operations in Ninawa and reviving the province's economy, they said.
Working together, Iraqi and US experts have over the past 18 months removed and dismantled more than 170 IEDs and unexploded ordnance.
Al-Fahad, an Iraqi company, took part in mine clearance operations at the airport, alongside US mine-clearing companies Janus and Tetra Tech.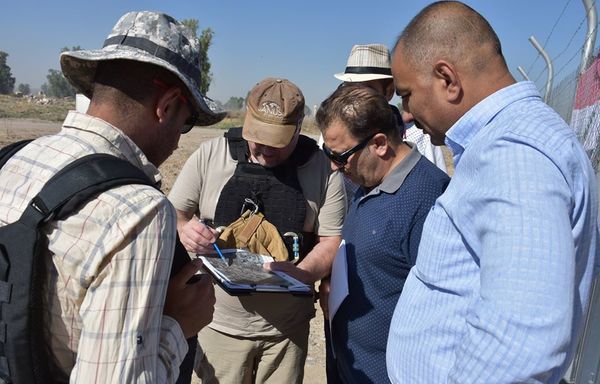 "De-mining operations with Janus started in March 2018," al-Fahad director Mohammed Attia told Diyaruna. "We managed to complete 80% of the project to get rid of landmines."
Then with the help of Tetra Tech, the work was completed in November, in collaboration with the Iraqi Directorate of Mine Action and a military engineering team from the Iraqi Ministry of Defence.
Mine clearance operations are funded by the US State Department, he said, and are aimed at "creating a safe environment for those who will be working on reconstruction operations and the efforts to bring the airport back to life".
Al-Fahad is engaged in other de-mining projects in Ninawa, he said, including along an electricity line between Mosul and Bashiqa and around the North Electricity Station in Mosul.
"We have made satisfactory on-the-ground progress," he said, despite the magnitude of the mine problem.
Reconstruction can begin
Now that the ground has been cleared, the airport reconstruction project can go ahead, and infrastructure damaged by ISIS can be repaired or replaced.
In July, the Ninawa local government announced that Iraq had awarded the airport reconstruction contract to a French consortium.
Reconstruction work is expected to take 16 months to complete, Ninawa provincial council security committee chairman Hashem Barifkani told Diyaruna.
The airport had been heavily damaged, he said, with runways, arrival and departure halls and control towers damaged or booby-trapped by ISIS.
The airport, built in 1920, was rehabilitated for air traffic in 2008 and a major plan was designed to develop it, but was put on hold after ISIS invaded Mosul.
Mosul airport is "one of the oldest civilian airports in the country and was considered to be a main airport in our province before ISIS terrorists destroyed it", Ninawa provincial council member Hussam Eddin al-Abbar told Diyaruna.
Reopening the airport will be "a major win for our province", he said.
"This will help facilitate the movement of official delegations and investors as they come to Ninawa and improve economic output, transportation and commercial shipping," he said.