After fires broke out in large swathes of farmland where wheat and barley crops were about to be harvested, Iraqi authorities stepped up security patrols to prevent arson and increased their preparedness to battle future blazes.
Local officials and media have blamed malign actors, primarily the "Islamic State of Iraq and Syria" (ISIS), for setting fire to the staple crops, saying this was done in an attempt to extort farmers and harm the national economy.
The fires have affected several provinces but were most severe in farming villages in Ninawa, Kirkuk, Salaheddine and Diyala provinces. They have ravaged thousands of hectares of farmland close to the harvest season.
Civil defence teams put out many of the fires, while fire engines were deployed in the fields and near grain silos and security forces were called in to monitor the situation.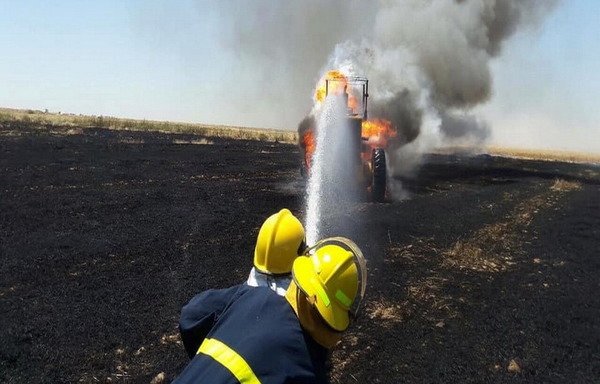 "Vast farmlands have been deliberately set on fire," Salaheddine provincial council chairman Sabhan Mullah Jiyad told Diyaruna. "Farmers and security forces have found tools used to start the fire, which proves it was arson."
Formal investigations have not yet identified the perpetrators, but Jiyad said he thought it was likely that ISIS was responsible.
Local sources also pointed the finger towards ISIS.
Attempted extortion
Reports from several affected farmers in the villages surrounding Makhmour in south-eastern Ninawa indicate that ISIS remnants have been extorting farmers for money, threatening to burn their crops if they do not pay them.
According to Jiyad, the group's fighters "have lost all sources of funding and have no other alternative but to impose taxation and blackmail to raise money".
The damaged farmland in Ninawa is open fields located in Makhmour and in western Beiji, Tikrit and Samarra, he said.
"Civil defence teams have managed to contain several fires and are doing everything they can to put out the raging fires and prevent them from spreading," he said.
They have positioned water tankers near grain silos in anticipation of future outbreaks, he said, while security patrols have been inspecting grain silos and farmland to pick up any suspicious movements and capture perpetrators.
Extensive losses
In Diyala, fires have destroyed hundreds of hectares planted with wheat on the outskirts of the towns of Khanaqeen, al-Adhim, Jalawla and al-Saadiya.
Iraqi MP Abdul Khaliq al-Azzawi, who serves on the parliamentary security and defence committee, representing Diyala, accused ISIS elements of setting fire to the farmland in his province.
He told Diyaruna that firemen, security personnel and local residents stepped in and stopped the fires from spreading and engulfing more land.
Before the fires were ignited, a plentiful harvest had been anticipated as a result of heavy winter rainfall, he said, noting that "the goal behind this deliberate damage to wheat and other strategic crops is to strike the Iraqi economy".
Sources point to ISIS, he said, but it is also possible that the fires could have been started by "unknown malicious sources targeting the agricultural sector in Iraq so that the country relies on imports and cannot reach self-sufficiency".
Al-Azzawi called on the government to "increase its protective measures by forming a crisis cell that is charged with investigating the fires".
Additionally, he said, measures need to be put in place to address future disasters that might affect Iraq's natural resources and threaten its food security.
Further measures needed
The full extent of the fire-related losses is not yet clear.
But economist Basem Jameel Antoine told Diyaruna they are "quite significant, since the fires spread across large areas of wheat and barley fields".
Despite the losses, there is still an "abundance of grains", he said, adding that "farmers are expected to be able to sell large quantities of grains to the government, exceeding previous years".
"However, the relevant government agencies need to take all necessary precautions to prevent the repetition of such fires and to gather all the facts in this regard," he cautioned.
Antoine also called for the swift compensation of affected farmers.
"Cultivating strategic crops is difficult, costly and lasts for months, and those that have been disadvantaged by the fires should not be left without fair compensation," he said.