"Islamic State of Iraq and Syria" (ISIS) elements have burned down large swathes of farmland in Ninawa province's Makhmour district, an Iraqi official said Wednesday (May 13th).
ISIS remnants have set fire to wheat fields and other farmland in villages close to the Qara Jogh plain, including Bir Dawood, Sawan and Karsour in Qaraj district, south of Makhmour, the district's mayor Razkar Mohammed Ismail told Diyaruna.
"The fires devoured vast swathes of land amounting to about 400 dunams, causing farmers financial losses," he said.
Thousands of farmers this month have begun harvesting their wheat, barley and other crops in Iraq's northern provinces.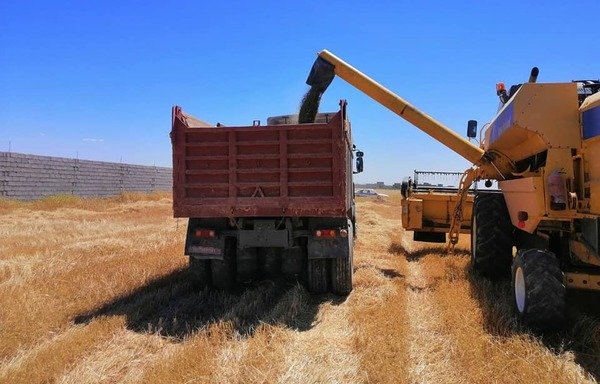 Security forces had already put in place precautionary measures to secure farmlands against ISIS fire threat, Ismail said.
"But because of the large cultivated lands, sometimes located in remote areas close to the terrorists' hiding places, securing all of them becomes a difficult task, particularly the lands in the 12 southern Makhmour villages," he said.
Military forces and civil defence teams have now doubled their efforts to monitor farmlands, he said, adding that they are joined by farmers and volunteers from the villages.
Several crop harvesting guidelines also have been issued, he said, including that "harvesting shall be carried out collectively under the supervision of security forces, particularly in the fields that stretch towards elevated areas".
Harvesting is to take place from dawn until sunset, he added.
Increased ISIS activity
"ISIS elements have stepped up their terrorist activities over the last two months out of their secret bases in the Qara Jogh mountain and the Qaraj plains," Ismail said.
They have launched several attacks using improvised explosive devices (IEDs), he said, adding that they carried out an ambush two weeks ago that killed two soldiers from the Iraqi army's 14th division.
Combing operations targeting ISIS hideouts are ongoing, Ismail stressed, noting that "terrorists exploit their familiarity with these areas' geography, which gives them a greater ability to move about, escape and hide in caves that are difficult to detect".
Ismail called for tightening the security grip on mountainous areas in Makhmour, and for striking the militants' supply lines and destroying all of their hideouts.