Floods and torrential rains that swept across much of Iran in recent weeks have caused widespread destruction and loss of life.
They also have exposed the shortcomings of Iranian governance, experts told Al-Mashareq, accusing the regime of neglecting the country's infrastructure and failing to plan for natural disasters as it pursues its external political agenda.
Flood-related deaths have been reported in 11 of Iran's 31 provinces, with around 62 people killed as a result of the storms that began in March.
"The floods and torrents caused by heavy rains have exposed the neglect suffered by many areas in Iran," said Al-Sharq Centre for Regional and Strategic Studies researcher Fathi al-Sayed, who specialises in Iranian affairs.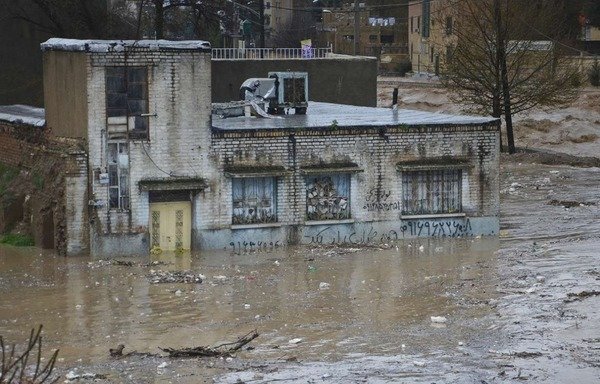 Iranian authorities "have caused this by diverting the nation's wealth to funding Islamic Revolutionary Guard Corps (IRGC) projects abroad", he said, with funds that could have been spent on infrastructure instead going to armed groups.
The Iranian regime chose to finance its armed affiliates "rather than develop the necessary plans to respond to such emergencies", he told Al-Mashareq.
The issue is not the storm losses, as this could happen in any country, he stressed, but rather the "extent of the rampant corruption that led to neglect".
If dams had been built and maintained, many areas could have averted disasters and mass displacement, he said, noting that this type of infrastructure is particularly important in arid agricultural areas prone to flooding.
Instead of putting in place infrastructure that could have helped, he said, the regime has exacerbated the situation by deforesting areas that might have served as natural barriers to hold back the torrents of rainwater.
Meanwhile, water channels that could have absorbed much of the excess rainwater have not been cleared of debris in years, he said.
Public anger mounts
The Iranian leadership's neglect stems from its non-disbursement of budget allocations for the specific purposes to which they were allocated, said researcher Sheyar Turko, who specialises in the IRGC and its funding methods.
He also pointed to the regime's lack of financial support for development and infrastructure projects, noting that the powerful IRGC "has diverted all this money to serve its own ends" to the detriment of many parts of the country.
"Public anger has been mounting in Iran since the consequences of the floods became known," said Mazen Zaki, director of the new media department at Egypt's Ibn al-Waleed Studies and Field Research Centre.
Social media is inundated with comments and images that reveal the extent of public anger, he told Al-Mashareq, noting that the Iranian people are already suffering as a result of the collapsed economy and widespread unemployment.
The comments point to the "lack of real assistance for displaced civilians, absence of government institutions in the affected areas and failure of government institutions to help them despite the magnitude of the disaster", Zaki added.
Attempt to shift blame
As the extent of the disaster became clear, Iranian Foreign Minister Mohammad Javad Zarif attempted to dodge responsibility for the situation, blaming US sanctions for a shortage of rescue helicopters in a social media post.
But US Secretary of State Mike Pompeo refused to shoulder the blame, pointing out that sanctions would present no obstacle to legitimate disaster assistance.
"These floods once again show the level of Iranian regime mismanagement in urban planning and in emergency preparedness," Pompeo said in a statement.
"The regime blames outside entities when, in fact, it is their mismanagement that has led to this disaster," Pompeo said.
"The US stands ready to assist and contribute to the International Federation of Red Cross and Red Crescent Societies, which would then direct the money through the Iranian Red Crescent for relief," he said.