There is growing concern on the Iranian street that foreign militias invited in by the Islamic Revolutionary Guard Corps (IRGC) to help with flood relief are being used to suppress domestic protests over the response, Iran experts said.
The current crisis was set in motion when floods and torrential rains that began in March swept across much of Iran, causing widespread destruction, displacement and loss of life.
This also exposed the shortcomings of Iranian governance, experts told Al-Mashareq at the time, accusing the regime of neglecting infrastructure and failing to plan for natural disasters as it pursues its external political agenda.
The aftermath of the flooding brought its own set of problems, with the Iranian regime accused of diverting aid money to the IRGC and the IRGC in turn using funds intended for relief to pay the salaries of the militias it enlisted to help.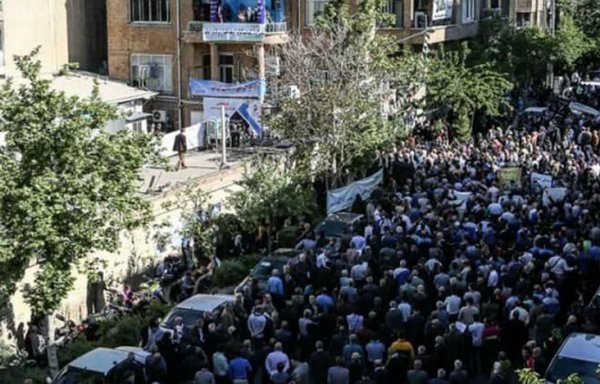 In grievances aired on social media, Iranians accused the regime of negligence, asked why foreign aid money had been diverted or gone missing, and questioned the decision to bring in foreign militias to handle a domestic crisis.
Militias brought in to the country include Lebanon's Hizbullah, Iraq's Harakat al-Nujaba and Popular Mobilisation Forces (PMF) and the Fatemiyoun militia, which is comprised of Afghan fighters, said Tehran native Hussein Shayan.
The arrival of foreign militias escalated the public outcry, he told Al-Mashareq.
Flood victims not a priority
Foreign militias deployed by the IRGC to flood-ravaged areas of Iran "came to suppress the protests and not help the victims", Sheyar Turko, who specialises in IRGC-affiliated groups, told Al-Mashareq.
Turko said residents of Khover-e Huweira and Khover-e Dowraq, wetland areas of Ahwaz in Khuzestan province, were angry the militias had been focused on diverting floodwater away from "oilfields and sugar cane plantations owned by IRGC companies".
The IRGC's priority was on protecting its own investments, he said, pointing out that some residents claimed that floodwater diverted from these revenue-generating enterprises had inundated their homes and farms.
When word spread that the IRGC had been using donor funds intended to help flood victims to pay the salaries and lodging expenses of foreign militia members, these protests turned violent, Turko said.
Most protests have been taking place in Khuzestan and Lorestan provinces, which were the hardest hit by the flooding.
Clashes broke out in several neighbourhoods in the western part of Ahwaz city between local protesters and the PMF, which is deployed in that area, he said.
IRGC faces funding shortfall
"The IRGC is in a dire predicament at this time, as its forces and militias in Syria are under heavy pressure," said Al-Sharq Centre for Regional and Strategic Studies researcher Fathi al-Sayed, who specialises in Iranian affairs.
The funding shortages the IRGC is facing have diminished its power in Syria and shrunk the territory under its control, particularly in the provinces of Homs, Aleppo and Daraa, he told Al-Mashareq.
As it faces trouble abroad, the IRGC also is facing trouble at home, he added, where protests over the mismanaged flood response have widened to include Iranians who invested in IRGC companies and are unable to get their money back.
This has prompted the IRGC's leadership to use foreign militias deployed in Iran to secure its areas and suppress the daily demonstrations, al-Sayed said.
"The only reason the IRGC has been able to afford the cost of bringing foreign militias into Iran is because it has been using aid money intended for the residents of disaster-stricken areas," he noted.