Christian families driven out of their homes by the "Islamic State of Iraq and Syria" (ISIS) are making their way back to Mosul amid improved security conditions and restored basic services.
Despite their low numbers, these families have ushered in a new era of societal stability and peace, local officials tell Diyaruna.
"Since the liberation of Mosul from ISIS in mid 2017, many displaced families have come back," said Duraid Hikmat, advisor to the Ninawa governor.
But the return has been slower for Christian families, who used to number around 2,000 families before ISIS's incursion, he told Diyaruna.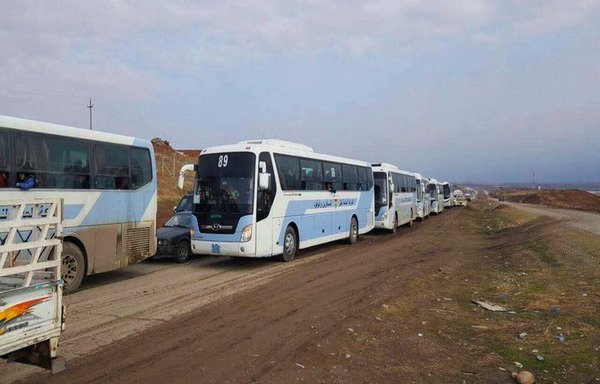 This is because these families lived in Mosul's Old City, which was heavily damaged during the liberation battles, he said.
Today, however, the Old City has been witnessing a trickling of returnees, including Christian residents, with the restoration of basic services, he said.
"Nearly 50 Christian families have returned to their homes in the Old City and other parts of Mosul," he added.
Additionally, members of some 150 other Christian families have been working during the day to repair their damaged homes in Mosul before returning to their shelters outside the city in the evening, Hikmat said.
"Many Christian students also come to the city from IDP camps every day to attend classes at Mosul University and the city's [academic] institutes," he said.
Rehabilitating homes destroyed during the battles and creating job opportunities will encourage Christians and other IDPs to return to their homes, Hikmat said, particularly amid the improved security Mosul is experiencing.
Societal stability
"Christian families returning to their homes in Mosul are spread across the neighbourhoods of al-Saa, al-Nabi Jirjis and al-Shifaa in the Old City in western Mosul," Ninawa provincial council member Hussam Eddin al-Abbar told Diyaruna.
"Other Christian families have returned to eastern Mosul neighbourhoods such as al-Majmoua al-Thaqafiya, al-Arabi, al-Nour and al-Muhandiseen," he added.
"In spite of their low numbers, the return of Christian families is very important for the residents of Mosul," said al-Abbar.
During their control of Mosul, ISIS elements committed horrendous acts against all residents without exception, he said.
But by expelling Christians and confiscating their properties, "ISIS sought to cause a rift in Mosul's social fabric and incite hatred and animosity in the city that is known for the solidarity of its residents", he said.
"Therefore, the return of Christians and their co-existence with their fellow Muslim residents and other sects ushers in societal stability and peace," al-Abbar said.
Rebuilding churches
The local government has been supporting the return of Christian families through the rehabilitation of damaged churches in Mosul.
Repair work was completed at the St. Paul Chaldean Church in al-Majmoua al-Thaqafiya neighbourhood in September.
Al-Bishara (Annunciation) Church, which is being constructed on the ruins of another church that was destroyed by ISIS, will also soon be opening in eastern Mosul.
Mosul's city centre boasts about 10 churches, which have been burned down, vandalised or looted at the hands of ISIS fighters.
"Government efforts are focused on rebuilding two churches -- al-Tahira and al-Saa -- which are among the oldest churches in Mosul," said Christian activist Ramy Hanna Karoumi, a native of Mosul.
Rehabilitating old churches and building new ones will send a positive message to Christian families that "reflects the historical face of Mosul as the cradle of civilisations and religions", he told Diyaruna.
"The Christian residents of Mosul are loyal to their city and eager to return and live safely alongside their fellow residents," he said, calling on everyone to "forget what happened and look to the future".