For over a century, the churches of al-Tahira and al-Sa'a stood tall in Mosul's Old City, in a nod to the city's vibrant cultural identity and religious co-existence.
Then in 2015, extremists bombed one and vandalised the other, leaving their walls bare and their halls void of worshippers.
Today, two years after the "Islamic State of Iraq and Syria" (ISIS) was expelled from Mosul, Iraqis are seeking to revive their city's injured heritage, a city that was home to historic mosques, churches and temples for other religious minorities.
The Iraqi government on October 12th signed an agreement with the UAE Ministry of Culture and UNESCO to rebuild the churches of al-Tahira (The Immaculate) and al-Sa'a (The Clock), which date back to the 19th century.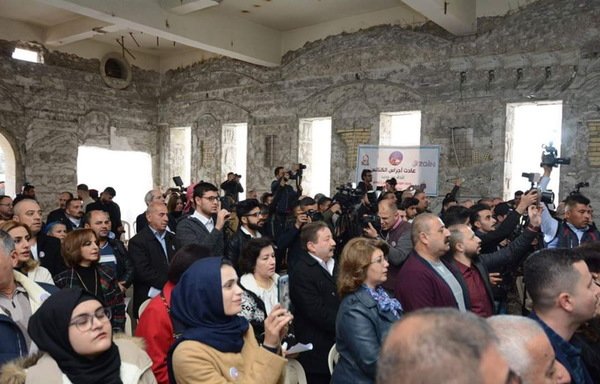 The agreement falls under a trilateral agreement (Iraq-UAE-UNESCO), which saw the UAE grant $50 million in April to rebuild al-Nuri Mosque and its iconic al-Hadba minaret.
"The agreement is to rebuild al-Tahira Church for Syriac Catholics in al-Maydan and al-Sa'a Church, also called the Latin Church of the Dominican Fathers, in al-Sa'a neighbourhood," said Father Emanuel Adel Kalo, head of the Syriac Catholic Churches in Mosul.
Al-Tahira church was bombed by ISIS in February 2015 and sustained significant damage, said Kalo, noting that it now stands without a ceiling, while destruction has reached the entire structure and all its contents.
Al-Sa'a church was also affected by terrorism but "to a lesser extent", he said, adding that all 20 churches in Mosul were touched by the hand of terrorism.
Encouraging returns
The effort towards rehabilitating the two churches is intended to encourage displaced Christian families to return home and resettle in Mosul, Kalo said.
"Nearly 50 Christian families have returned to the city," he said, "a number that is still modest, not because of security reasons but due to poor services".
"Several of those families lived in the Old City whose infrastructure was heavily damaged in the liberation battles," he added.
Christians are an integral component of Mosul and Ninawa province and along with other minorities have contributed towards building the heritage and culture of the country, Christian activist Rami Hanna Kroumi told Diyaruna.
ISIS wanted to vandalise and destroy places of worship to drive a wedge between Iraqis and undermine their nationalism as well as obliterate their cultural achievements, "but their efforts have all been in vain", he said.
Church organisations have rebuilt 12,000 homes belonging to Christian families and other minorities in Mosul and the Ninawa Plains, he said, in a sign of social cohesion and co-existence.
Kroumi stressed the importance of providing a safe environment for all IDPs so they can return to their places of origin.
A legacy for the world
Officials also have allocated funds for the reconstruction of mosques and ancient places of worship in Ninawa.
"The local government has earmarked 100 billion Iraqi dinars ($84 million) to rebuild historical mosques and places of worship for all sects and religions in Mosul and throughout Ninawa," said Ninawa provincial council member Ayed al-Louayzi.
This aims to restore conditions to the pre-ISIS era and build the foundations of a normal and stable life, he told Diyaruna.
Reviving Mosul's religious heritage "takes priority by the government, the UN and the international community as it is a legacy for the country and the world", he said.