Iraqi forces have been conducting continuous operations in Anbar to search for caches of explosives hidden by the "Islamic State of Iraq and Syria" (ISIS) and destroy them before the group can use them to commit acts of terrorism.
Search and destroy operations have been targeting secret storage facilities filled with improvised explosive devices (IEDs), ammunition and weapons, Anbar provincial council security committee chairman Naeem al-Koud told Diyaruna.
As a result of these actions, "ISIS's supplies of explosives are being depleted", he said.
After it overran the province in the summer of 2014, ISIS stockpiled large quantities of explosives, mostly in desert areas close to the cities, al-Koud said.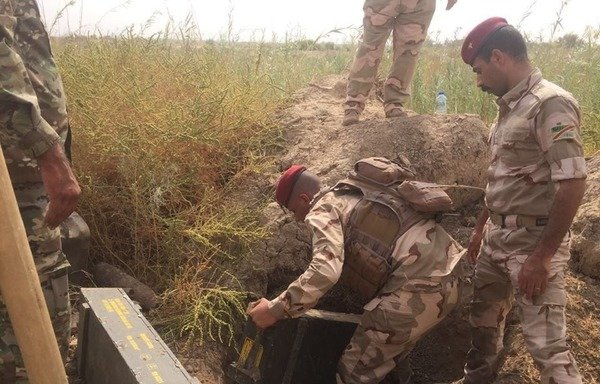 These stockpiles pose a "direct and persistent threat to the liberated cities", he added, as some ISIS fighters who fled the Iraqi assault may try to creep back into the area to retrieve the weapons for use in future attacks.
But the deliberate targeting and destroying of these arsenals has now "made it possible to ward off the threat they pose on cities", al-Koud said.
"According to the latest security indicators, [ISIS remnants] are currently facing significant and real problems in accessing explosives, thanks to ongoing and relentless campaigns to rid the area of these stockpiles," he said.
ISIS has been unable to restock its arsenals, he said, and has been further thwarted in this endeavour as Iraqi forces tighten their grip on the Syrian border, target supply chains and close infiltration entry points.
"The enemy not only suffers from dwindling stockpiles and ammunition, but also of fighters, since usually when ISIS hideouts are found, the elements hiding in guest-houses and shelters in the desert also are killed," he said.
Destroying ISIS arsenals
"Security forces are very active in tracking the locations where terrorists have hidden their explosives," Anbar provincial council security committee member Murdi Mohammed Khalaf al-Mahalawi told Diyaruna.
The increased stability in Anbar cities is evidence this strategy is working, he said.
"The field operations units are combing large swathes of desert," he said, backed by Iraqi and international coalition airpower and surveillance.
"This heightened activity has led to seizing terrorist explosives and bombs, as well as uncovering their sources of weapons and ammunition," he said.
Iraqi forces destroyed 268 IEDs that had been hidden in the Albu Hassan area of Ameriyat al-Fallujah between November 1st and November 20th, he said.
A cache of 146 explosive devices also was uncovered, he added, "some of which were in the form of 20-litre (jerrycans) filled with explosives".
This is in addition to 100 IEDs and half a tonne of the C-4 explosive in western Anbar's al-Jazeera desert, he said.
Iraqi forces also found 43 bombs in al-Malaab and al-Malahma areas of Ramadi, and 17 IEDs in the town of Kabisa in the Heet administrative district.
Preventing future attacks
"Stripping ISIS elements of their explosives is a part of a carefully laid security plan to limit their influence and prevent them from carrying out attacks," Anbar provincial council security committee member Shallal Naji Obeid told Diyaruna.
Anbar's civilian population, especially the inhabitants of desert villages, have played a critical role in these efforts, he said, noting that they "led security forces to find a large number of explosives and weapons".
"The threat emanating from these storage facilities is no less harmful than terrorist sleeper cells," Obeid said.
Iraqi civilians are doing what they can today to help security forces stamp out these threats, he added.