Activists in northern Syria have intensified their demonstrations against Tahrir al-Sham, demanding the release of hundreds of the group's prisoners and a halt to the detentions they say are taking place daily in areas under its control.
The extremist alliance has detained many who oppose its policies and actions towards civilians, particularly in Idlib province, and is holding them in its jails.
Last Friday (September 28th), demonstrations were called to demand the release of political prisoners held by the Syrian regime and all other parties to the conflict, Idlib resident Musab Assaf told Diyaruna.
These protests sought to capitalize on heightened regional and international media coverage, he said, noting that activists in northern Syria, especially in Idlib, have been co-ordinating with each other to pressure Tahrir al-Sham.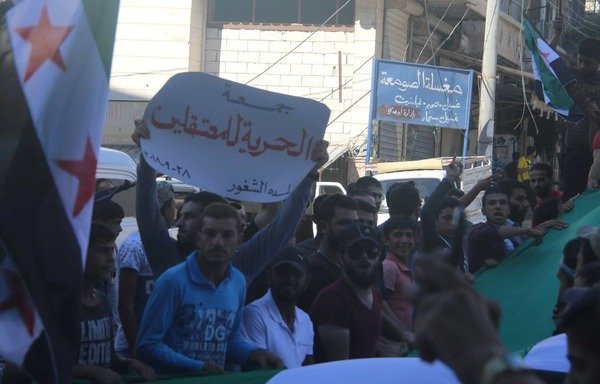 Protests have been staged in many areas and flyers have been distributed to demand the release of these individuals, Assaf said.
'Friday of Freedom'
During the Friday protest, dubbed "Friday of Freedom for the Detainees", activists raised signs with the names and photos of prisoners held by Tahrir al-Sham as well as the regime, and banners condemning the detentions.
"They demanded the release of all prisoners, despite the risks involved in their activism and the possibility they may have been detained by Tahrir al-Sham themselves," he said.
Activists have conducted a count of those who have spent time in Tahrir al-Sham's jails over the past year, he said, noting that "1,700 had been detained in total" and "1,500 remain behind bars".
Among them were "65 women and girls and 25 children who were under the age of 16 at the time of their detention", he said.
Assaf said Tahrir al-Sham's pursuit of opponents increased notably last month.
Prominent activists whose release is being demanded include Fawaz Shaabuk, Hamoud Sankar, Subhi Sankar, Raafat Sarmini, Khaled Mousa, Fadi Mousa, Ubaidah Dello and Majid Karman, he said, as well as Yasser al-Salim, Samer al-Salloum and Marwan al-Hameed.