Following a slew of attacks on power lines that diminish Iraq's ability to meet the needs of customers across the country, the Ministry of Electricity has been working closely with security agencies to protect this vital infrastructure.
Though the ministry last month announced it had managed to generate a production capacity of about 16,000 megawatts, it said the sabotage of electricity lines has continued to disrupt service to its customers.
The power grid runs through a vast area, much of it in desert terrain and in remote areas that make it difficult to secure through conventional means.
Attacks, acts of vandalism
In the first half of this year, around 85 attacks and acts of vandalism targeted electricity lines throughout Iraq, said ministry spokesman Musab al-Mudarris.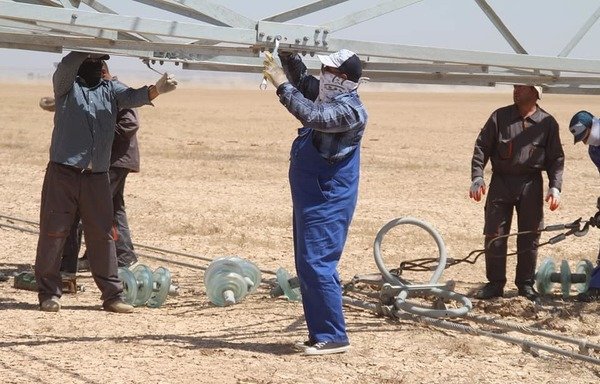 Some power lines were downed when electricity towers were damaged by explosive devices or direct gunfire, he told Diyaruna.
The electricity line between Ninawa and Kirkuk provinces was hit 13 times, the Mullah Abdullah line in al-Hawija (in western Kirkuk) was targeted 12 times and the Diyala-Kirkuk line was hit eight times during this period, he said.
On August 2nd, terrorists bombed the high voltage power line between Diyala and Kirkuk provinces in the Injana area, he added.
This caused an outage in Mosul and Kirkuk, as well as parts of Salaheddine, before technical teams managed to repair the damage and restore power.
On August 3rd, an explosive device targeted two electricity towers that supply the Dibs-Western Kirkuk dual line.
Another two high voltage lines, al-Dour-al-Hawija and Mullah Abdullah-al-Hawija, were targeted with gunfire on August 4th, causing damage to the wires and disruption to service for a period of time.
Such attacks usually result in an output decline of between 400 and 600 megawatts, which disrupts services, al-Mudarris said.
Preventive measures
In response to these attacks, the ministry has taken steps to prevent the targeting of the infrastructure by collaborating with the security forces, al-Mudarris said.
"There are mobile security teams that currently monitor and surveil the area to prevent violations and offensives," he said, stressing that army and police forces are doing everything within their means to secure the power lines.
He called on consumers, particularly those living close to these lines, to immediately report any suspicious activities.
Energy Police Directorate media director Capt. Ali al-Maliki told Diyaruna there has been co-operation with the security forces to reduce the threat level.
The directorate recently held several meetings with security leaders, including the Diyala Operations Command, to discuss ways to confront the attacks targeting electricity lines and towers, he said.
The focus has been on reinforcing joint partnerships, as well as exercising caution and taking pre-emptive measures, he added.
"The responsibility of protecting the electricity grid falls on the shoulders of the security forces on the ground, while the Energy Police are charged with protecting electricity generation plants and management headquarters," he said.
Power lines cover an area of 23,000 square kilometres across Iraq, he noted, "which is vast and hard to secure with human resources alone, and means that we would need a huge security force for more checkpoints and patrols".
Protecting infrastructure
Al-Maliki underscored the importance of modern surveillance technology and monitoring equipment, saying this is needed to secure power lines with higher efficiency, superior coverage and cost effectiveness.
Most acts of sabotage are carried out in remote areas, he said, noting that engineers and technicians are generally able to repair the damage within a day or two.
After their military defeat, extremist elements have been trying to target government facilities in order to hinder the reconstruction effort, he said, adding that they have not been successful.
The attacks against the electricity sector appear to be "an attempt to destroy the national economy and hinder development", said economist Majid al-Suwari.
The government has strongly and firmly confronted terrorist attacks and vandalism targeting public services, he told Diyaruna.
This is being done by "increasing intelligence operations and supporting the security forces with advanced technology", he said.
Cracking down on unauthorised weapons and fighting corruption are additional important factors in protecting the infrastructure of the state, he added.