Syrian civilians trapped in the pro-regime towns of Fuaa and Kafraya will be able to evacuate the area under the terms of a deal brokered Tuesday (July 17th) by opposition backer Turkey and regime ally Russia.
The Idlib towns have been under siege by hardline groups, led by Tahrir al-Sham, for close to three years, and several attempts to storm them have failed.
The agreement calls for the evacuation of everyone present in the two towns in exchange for the release of a number of prisoners and detainees held by the regime and Lebanon's Hizbullah, Idlib activist Musab Assaf told Diyaruna.
On Wednesday, barricades were lifted on the road leading into Fuaa and Kafraya, allowing 84 buses to enter, AFP reported.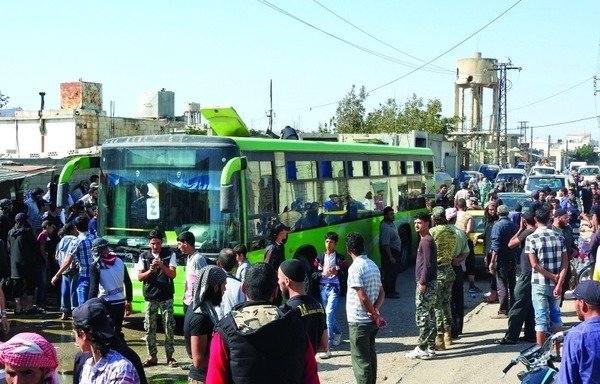 "On more than one occasion, it seemed a resolution was close at hand," Assaf said.
"On the most recent occasion, two months ago, a bus convoy did in fact enter the towns to begin the evacuation process," he said, "but the agreement ran into obstacles and only elderly people and critical medical cases were evacuated."
The new deal was struck between Tahrir al-Sham, the largest of the groups besieging the two towns, which largely controls the decision-making process in the region, and the Syrian regime, Assaf said.
It calls for the evacuation of all people present in the two towns, including pro-regime fighters and civilians -- about 6,900 men, women and children of all ages, in total -- according to the lists that were negotiated.
In exchange, the regime will release four Tahrir al-Sham elements held inside the two towns who were captured during an attempt to enter the towns, and 36 Tahrir al-Sham elements held by regime ally Hizbullah.
A further 1,500 detainees, including women and children, who are being held in the regime's detention centres will be released, Assaf said.
A security alert is in evidence in the area around the two towns, he noted, with civilians prohibited from approaching the area and a number of roads blocked with sand berms.
The road that connects Idlib with the town of Maarat Misrin is among the thoroughfares that have been blocked, he said, pending the announcement of the deadline for the implementation of the agreement.