Fighters allied with the Syrian regime on Tuesday (May 1st) entered an area of the Yarmouk Palestinian refugee camp in southern Damascus that was newly reclaimed from an extremist alliance, activists inside the camp told Diyaruna.
Elements of Tahrir al-Sham -- an extremist alliance dominated by the former al-Nusra Front (ANF) -- had vacated the camp just a few hours before, in accordance with an agreement reached with the Syrian regime.
Fighters belonging to pro-regime groups, the largest of which is the Popular Front for the Liberation of Palestine (PFLP), entered the vacated neighbourhoods, nurse and Yarmouk resident Naji al-Amer told Diyaruna.
A few hours earlier, Tahrir al-Sham elements departed, heading for the towns of Babila, Beit Sahm and Yalda as a prelude to their evacuation, along with militants in those towns, to Idlib province in northern Syria.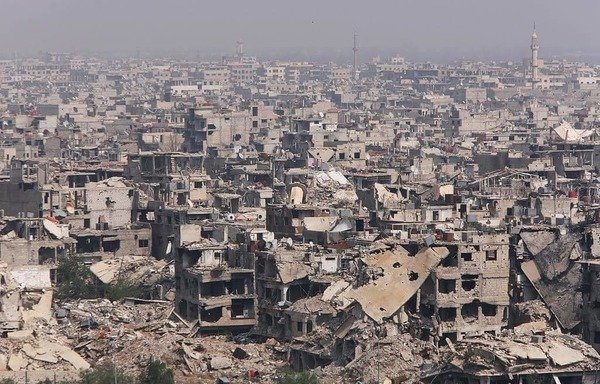 In accordance with the agreement reached with the regime, pro-regime fighters in the towns of Fuaa and Kafraya and a large number of civilians will be allowed to evacuate to regime controlled areas.
Agreement hits a snag
Around 200 Tahrir al-Sham elements left Yarmouk with their families and some other civilians, bringing with them their personal weapons, light machine guns and personal belongings, with each person permitted to take one bag.
As of Tuesday evening, al-Amer said, "the buses had not yet moved to transport militants and civilians out of the three towns due to a snag in the agreement".
"Kafraya and Fuaa fighters and residents refused the departure of an initial batch of 1,500 people, and insisted that everyone leave together, in one batch instead of two," he said.
The agreement stipulates that the second batch will leave before the advent of Ramadan, roughly two weeks from now.
Al-Amer said information received from Kafraya and Fuaa confirms the departure of critical medical cases, along with the very old and young.
According to eyewitnesses, he said, the part of Yarmouk vacated by Tahrir al-Sham is totally destroyed and is littered with mines and improvised explosive devices (IEDs) left behind by the alliance.
It is also riddled with tunnels Tahrir al-Sham elements had used as shelters during the intensive shelling of the area, he said.