The Iraqi Defence Ministry on Tuesday (June 26th) announced it is determined to eliminate "Islamic State of Iraq and Syria" (ISIS) sleeper cells and to protect civilians from terror threats.
The ministry's statement came several hours after a military force launched a large sweep operation in the area of ​​Hamreen to find six Iraqis kidnapped by ISIS last week while traveling on the Baghdad-Kirkuk road.
ISIS had kidnapped the six in Kirkuk and threatened via a video to kill them unless female ISIS members who are sentenced to life in prison and execution in Iraq are released.
"After it was defeated militarily, ISIS is today trying to give its remaining elements a morale boost by activating its sleeper cells to carry out operations that can at the very least be described as cowardly," said ministry spokesman Maj. Gen. Tahseen al-Khafaji.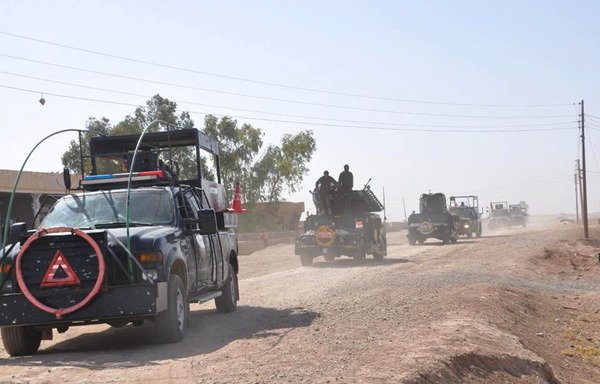 The group has been seeking to assert its presence by committing crimes against innocent people, such as the recent kidnapping of six Iraqis, he said.
In an extended Monday security meeting with Prime Minister Haider al-Abbadi, "we received strict instructions to track down and attack ISIS sleeper cells wherever they may be", al-Khafaji said. "We are determined to terminate these cells."
As a result of the meeting, a special operations force is being formed to protect Iraqi citizens, "secure roads from terrorist and criminal gangs, and carry out an immediate campaign to hunt down terrorist elements", al-Khafaji said.
"The instructions focused on stepping up intelligence work, information exchange, and co-ordinated efforts to deny the terrorists any opportunity and prevent them from threatening citizens' security," he added.
Strong relationship with the people
"Our victory [over ISIS] has been achieved thanks to the strong relationship that has developed between the people and the security forces," al-Khafaji said.
"The soldiers' sacrifices and their rush to save local people from ISIS's siege and fire at any price is what consolidated the bonds of trust and mutual understanding between the two sides," he added.
"We rely on that relationship to help us track terrorists, launch pre-emptive operations against their secret strongholds and attack their weapons and equipment stores," al-Khafaji said.
A joint security force made up of personnel from the 5th Division, Military Intelligence and Diyala police, with the support of army aircraft, on Monday launched a large-scale search operation.
The goal is to track down ISIS remnants in the Hamreen Hills, he said.
According to a statement issued by the Diyala Police Command, one extremist has been killed during the operation so far.
Additionally, three rest-houses and 10 motorcycles have been destroyed, nine explosive devices have been defused, and a pickup truck and stocks of explosives, equipment and foodstuffs have been seized, the statement said.