With a slew of strict new rules it is imposing on local populations in areas under its control, Tahrir al-Sham is behaving more and more like its rival, the "Islamic State of Iraq and Syria" (ISIS), a local activist said.
New measures to subjugate the population in the extremist alliance's northern Syria stronghold include the activation of so-called Sawaid al-Khair units, activist Musab Assaf told Diyaruna.
These units are "promotion of virtue and prevention of vice" groups similar to ISIS's hisbah ("religious police"), he said, and their new role comes with a list of new decrees to enforce that restrict freedoms to the maximum extent.
Tahrir al-Sham issued a statement at noon Thursday (May 31st) that was circulated in the areas under its control in Idlib and Hama, Assaf said.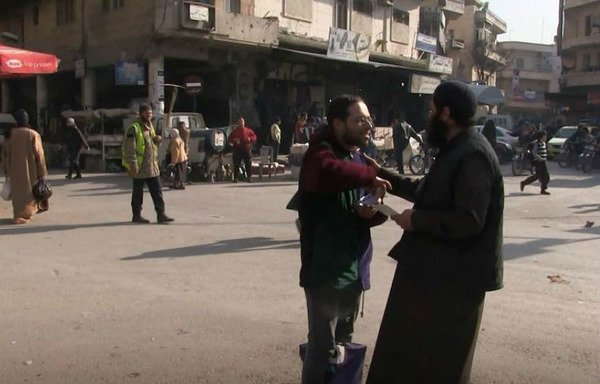 This confirmed its activation of the Sawaid al-Khair units, and listed dozens of decrees that residents view as arbitrary and infringing on their personal freedoms, he said, and as an attempt to dominate and control them.
Harsh new decrees
The newly issued decrees include mandatory prayer and closure of shops during prayer times, as well as a ban on the mixing of men and women in markets, shops, schools, vehicles and other means of transportation, Assaf said.
They also include a ban on men working in women's specialty shops.
Both men and women have been ordered to wear loose clothing and refrain from wearing close-fitting trousers or jeans, men have been prohibited from shaving and women have been ordered to wear abayas and the veil.
The new decrees also ban the use of cosmetics and the sale of cigarettes, and order the closure of shops that sell cigarette and hookah supplies, as well as the closure of all cafés that offer hookahs.
Tahrir al-Sham also issued some other orders related to traffic and commerce, among other matters, he said.
'More oppressive' measures
It is clear to residents that Tahrir al-Sham is going to be more oppressive in the upcoming period, Assaf said, and that it will forcefully impose its harsh interpretation of sharia on the local population.
This is largely being done to appease the foreign fighters, who are known for their ultra-extremism, and other hardline elements within the alliance, he said.
These decisions come out of fear that those elements could split from the alliance and join other extremist groups present in Syria, he noted.
The new shift in policy will likely attract many armed extremist elements that are currently with other groups, since these decisions are in line with their ideological orientation, Assaf added.