Iraqi forces captured five high-ranking "Islamic State of Iraq and Syria" (ISIS) operatives during a cross-border operation in Syria, Iraq's Joint Operations Command said Friday (May 11th).
"Acting on the directives of Iraqi Prime Minister Haider al-Abadi, and in co-ordination with the Iraqi Intelligence Agency, a major, carefully-planned operation was carried out," said command spokesman Brig. Gen. Yahya Rasul.
Five ISIS leaders who took part in attacks in Anbar and Mosul were detained by Iraqi forces during the cross-border raid, he said.
Among them are Saddam Omar Yahya al-Jamal, also known as Abu Ruqaiya al-Ansari, who was in charge of the so-called Wilayat al-Furat and who also serves as the field commander of Liwaa al-Sharqiya, Rasul said.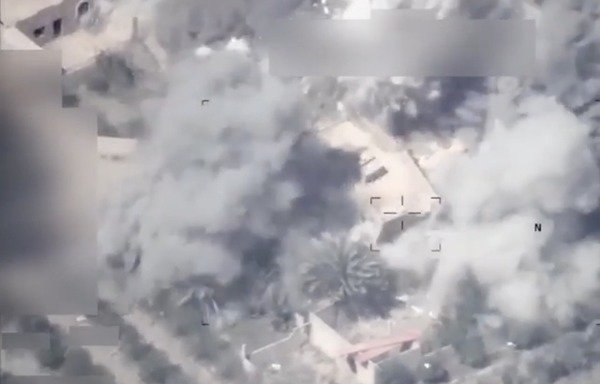 Mohammed Hussein Hadhar, or "Abu Saif al-Shaiti", was emir of the so-called al-Mayadeen Sector, he said, while Essam Abdul Kader Ashur al-Zawbaie, who went by the alias Abu Abdul Haq al-Iraqi, was emir of Firqat al-Fateh.
Omar Shehab Hammad al-Karbuli, also known as Abu Hafs al-Karbuli, was emir of Wilyat al-Furat's intelligence and a ranking member of al-Mayadeen Sector.
And Ismail Elwan Salman al-Eithawi, also known as Abu Zaid al-Iraqi, was an aide to Abu Bakr al-Baghdadi and headed a committee that assessed school curricula in ISIS-controlled areas.
'Detailed intelligence'
"They were arrested on Syrian soil, on the Iraq border, in a carefully-planned intelligence-based operation," Rasul said.
"Investigations conducted with them have yielded detailed information, on the basis of which an airstrike was carried out, targeting the so-called ISIS war commission, killing about 40 senior ISIS leaders," he said.
Among them are Omar Abed Hamad al-Fahdawi, also known as Abu Tariq al-Fahdawi, emir of the war commission; Abu Walid al-Sinawi, wali of Levant rulers; Abu Islam al-Kurdi, security chief of the Levant; and Ahmed Yahya Zaidan, also known as Abu Hassan al-Askari, military emir of Wilayat al-Furat.
Iraq's Joint Operations Command has been pursuing ISIS elements inside Syria in recent weeks, as other Iraqi security agencies tighten their control over the border the two countries share to prevent infiltration.
On April 19th, Iraqi Air Force F-16 fighter jets pummeled ISIS bases across the border, killing 36 of the group's elements and commanders.
Iraqi forces also are enhancing security along the border strip between Iraq and Syria to block ISIS remnants from infiltrating.