The Syrian market town of Markada has seen a return to business as usual since the "Islamic State of Iraq and Syria" (ISIS) was driven out on November 9th.
The streets of the town, near al-Shaddadi in southern al-Hasakeh province, have been filled with shoppers since the Syrian Democratic Forces (SDF) and Deir Ezzor Military Council liberated the strategic area, which borders Deir Ezzor.
Life has returned quickly to Markada, as most of the population did not leave the town during the battles to oust ISIS, as the main battles took place on the outskirts of town and in the small surrounding villages.
These include Alwa Shamsani, al-Shamsani, al-Zeinat, Jad and Anad, said SDF officer Farhad Khoja, who is stationed in the area.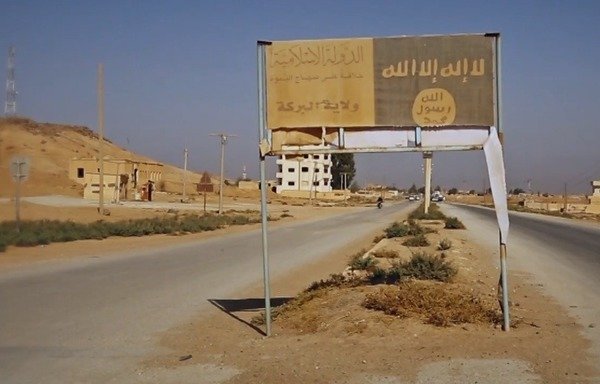 Mines planted by ISIS have been cleared from the town, Khoja told Diyaruna, and work is being done to clear the surrounding villages and agricultural areas to enable residents to move freely throughout the area.
The combing operations were prolonged due to a set of tunnels that ISIS fighters had used as a shelter during ground offensives and international coalition airstrikes, Khoja said.
Preventing ISIS infiltration
The SDF have set up a number of security checkpoints at the town's entrances, where they have been checking identification documents and monitoring comings and goings to prevent any ISIS infiltration attempts, Khoja said.
This has been a concern as many ISIS elements have been fleeing the fighting in different parts of Deir Ezzor, he added.
"There has been good co-operation between the population and the security forces," he said, noting that "most security personnel are from Markada, al-Shaddadi and rural al-Hasakeh, which has given comfort to the locals".
The town is known for its market, which serves as a hub for residents of al-Hasakeh, al-Shaddadi and Deir Ezzor, Markada resident and livestock merchant Faisal al-Mashouh told Diyaruna.
Since ISIS was expelled from the area, life has returned to the market, he said, which once again offers all kinds of food, vegetables, fruits and livestock.
"Prices are reasonable and have not seen sharp increases as has been the case in other areas," al-Mashouh said.
"This may be because this is an agricultural area where people work in agriculture and livestock farming, with close family ties between them that prevent any potential exploitation of the situation," he added.
A strategic military victory
The town's location allows merchants to access it from all sides -- from Deir Ezzor, al-Hasakeh and even Iraq -- and therefore the abundant supply of goods makes price rises inconceivable, al-Mashouh said.
The liberation of Markada was a significant military victory due to the town's strategic position on the border between Deir Ezzor and al-Hasakeh, media and social activist Ammar Saleh told Diyaruna.
As such, it served as a vital artery between the two areas, he said, and as a major supply route between Deir Ezzor and Iraq.
The town is very close to al-Omar gas field, he added, and therefore "taking control of Markada was necessary in order to consolidate security for the surrounding areas in al-Hasakeh and Deir Ezzor".
The town is governed by tribal elders, he said, and there is co-operation between them and SDF leadership to ensure a smooth return to normal life and to prevent ISIS elements from infiltrating into the area.