Tahrir al-Sham elements on Tuesday (November 14th) opened fire at civilians as they prepared to stage a protest against battles between the group and Nureddine al-Zinki, an activist told Diyaruna.
Civilians in a town west of Aleppo have been caught in the crossfire of fierce fighting between Tahrir al-Sham, which is dominated by the former al-Nusra Front (ANF), and armed Islamist movement Nureddine al-Zinki.
Battles between the two groups have left many local residents dead or wounded.
Residents had gathered near the entrance to the town of al-Atareb, and were preparing to stage a demonstration against the ongoing battles between the two groups, local media activist Khalil al-Maatouq told Diyaruna.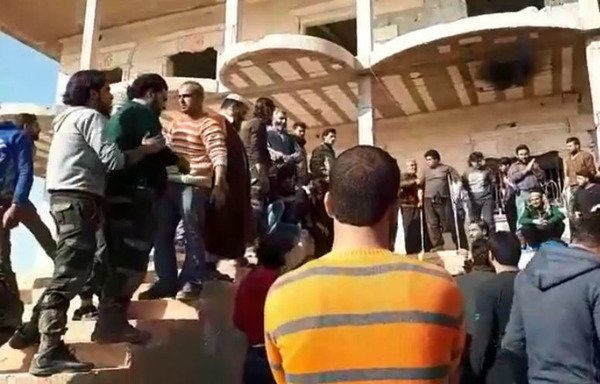 But as soon as the protesters raised the flag of the Syrian revolution, Tahrir al-Sham elements at a nearby security checkpoint fired indiscriminately to disperse them, without prior warning, killing one person and injuring others, he said.
Children injured in the gunfire
Children were among the approximately nine civilians injured in the incident, said al-Maatouq, who uses a pseudonym out of concern for his safety, noting that "it is difficult to ascertain the number of casualties".
This is because the protesters dispersed in different directions, he said, "and residents are not publicising the names of the wounded out of fear of Tahrir al-Sham retaliating against the wounded and their families".
Al-Maatouq, who was present in the area where ​​the shootings took place, said anger prevails in the region in the wake of this incident.
Residents are especially angry as some dignitaries in the region had tried to communicate with Tahrir al-Sham to put an end to its abuses against civilians, only to be told that these actions stem from a "fatwa" issued by the group.
This fatwa, issued by one of the group's so-called sharia officials, Abu Yaqthan al-Masri, calls for "striking the head" of anyone who opposes the group, said al-Maatouq, who has heard an audio recording of the edict.
This is not the first time Tahrir al-Sham has clashed with al-Atareb residents, he said, noting however that while there has been friction in the past, this is the first time the group has opened fire directly at civilians in this area.