For the first time in months, relief convoys were allowed entry into the Eastern Ghouta region outside of Damascus, which has been suffering a siege by Syrian regime forces since 2013.
On Monday evening (October 30th), a humanitarian convoy of 49 trucks reached Eastern Ghouta, the UN's World Food Programme said in a statement.
This included 41 trucks carrying WFP food rations for 40,000 people in the areas of Kafr Batna and Saqba as well as specialised nutrition products for nearly 13,000 children.
More aid is planned in the coming days, according to the statement.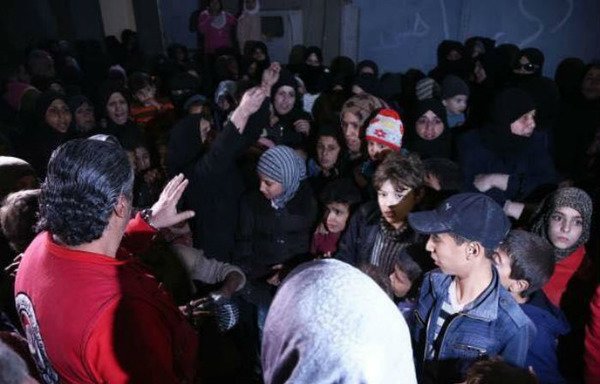 Children the worst hit
WFP staff entered Eastern Ghouta along with members of the Syrian Red Crescent, al-Marj medical bureau director Dr. Anas Abu Yassir told Diyaruna.
"The delegation distributed food rations in some villages and towns in Eastern Ghouta and Eastern al-Qalamoun," he said, as a medical delegation toured medical centres to distribute vaccines and examine a large number of children in the area.
The number of children suffering from chronic malnutrition is close to 500, he said, adding that the number of children who require immediate and urgent medical attention is 2,000 children at the very least.
Abu Yassir said the medical delegation's work focused on the towns of Kafr Batna, Saqba, Hamouriya, Ain Tarma and Jisreen, as they are densely populated.
Many of the fatalities among children occurred in Kafr Batna, he added.
The medical delegation wrote a detailed report on Eastern Ghouta's conditions and submitted an urgent recommendation stressing the need for the delivery of a second convoy of aid, Abu Yassir said.
It must include medicine and treatments for the elderly and patients with chronic diseases, as well as children's vaccines, he said.
Mounting international pressure
"The Syrian regime's approval of the entry of aid to the region came as a result of international pressure," Abu Yassir said.
Syrian media professionals and activists launched a successful media campaign to shed light on the plight of Eastern Ghouta residents, he said.
The UN on Friday condemned the "deliberate starvation of civilians" as a war tactic following the release of "shocking" images showing severely malnourished children in Eastern Ghouta, AFP reported.