The Tahrir al-Sham alliance, which is dominated by the former al-Nusra Front (ANF), has taken over the Idlib city water department and local council buildings, a local activist told Diyaruna.
The move is designed to pressure city residents and leaders to agree to allow the alliance to establish a civil administration to run the affairs of Idlib and its surrounding areas, said Idlib media activist Musab Assaf.
After the alliance became certain the initiative it had proposed to the city's leading figures -- to establish civil rule -- would be blocked, it began to crack down on residents, he said.
In a display of defiance, the alliance targeted leading figures and activists who run the city's day-to-day affairs, taking over the city's local council building and its water department.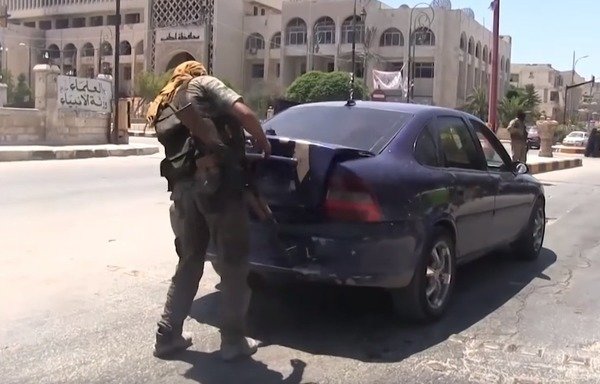 The alliance also banned council members from carrying out their duties and informed them that from now on, Tahrir al-Sham emirs and elements would see to the administration of the city and its surrounding areas.
According to Assaf, the local council is not affiliated with any political party.
"Its members are elected by city residents, and it has been managing the city's affairs since 2013," he said.
The suspension of the civil council sparked a strong negative reaction from residents, he said, with prevailing tension and fears that clashes will erupt.
Tensions are being fueled by Tahrir al-Sham elements, who are spread out throughout the city, and have been enforcing bans on activities such as smoking, wedding celebrations and music under the pretext of applying sharia.
At present, Assaf said, the city is without power, water or food.
"The new school year is about to begin, and residents are fearful that Tahrir al-Sham will seize control of the education process and curricula, as the 'Islamic State of Iraq and Syria' (ISIS) did in the areas under its control," he said.
Political manoeuvers
In an attempt to smooth the path towards its establishment of a new civil administration, Assaf said, Tahrir al-Sham tried to win over political activists and leading figures, inviting them to meet ANF leader Abu Mohammed al-Joulani.
It also invited a number of Syrian opposition figures to return from abroad for discussions, including members of the National Coalition for Syrian Revolutionary and Opposition Forces, the Syrian Interim Government and the Syrian Islamic Council.
Some, such as Ahmed Abu Zeid, Usama Abu Zeid and Sheikh Abbas Sharifa, announced their rejection of this dialogue point blank.
These negotiations are only a means for ANF to hide behind a civilian facade to evade any possible attack by coalition forces, they claimed, as the alliance has been designated a terrorist organisation.
"One invitee, Sheikh Hassan al-Dgheim, a researcher of extremist groups who has been a staunch opponent of the presence of ANF, initially agreed to the negotiations in an attempt to quell the situation," Assaf said.
Al-Dgheim initially thought there was a chance to secure the release of Tahrir al-Sham detainees, many of whom are Free Syrian Army (FSA) officers, Assaf said.
"However, he reversed his position on August 28th, and refused to proceed with the negotiations after discerning the alliance's true intentions," he added.