Through the guise of a "salvation government", Tahrir al-Sham issued on Sunday (December 11th) a warning to the Syrian Interim Government to close its offices in Idlib within 72 hours, a hostile act that might thrust the region into a conflict, local activists tell Diyaruna.
The National Salvation Government, formed on November 2nd, is considered by many to be a front for Tahrir al-Sham, an extremist alliance dominated by the former al-Nusra Front (ANF).
Interim government Prime Minister Jawad Abu Hatab called on Free Syrian Army (FSA) factions to defend the government's offices in the province, in case of an attack by Tahrir al-Sham, according to media reports.
The salvation government issued a warning to the interim government to vacate all its headquarters and suspend all its activities within a three-day period ending on Tuesday, said Idlib-based activist Musab Assaf, who asked to use a pseudonym for safety reasons.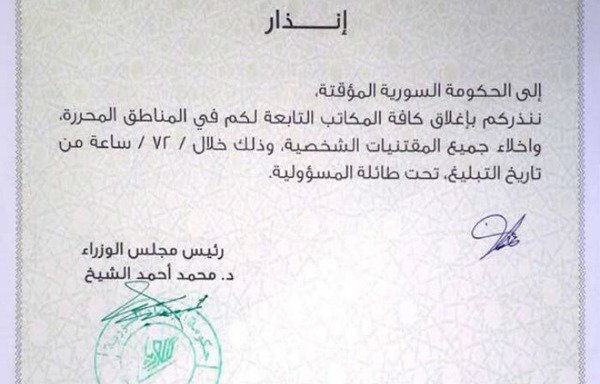 A number of public figures in the region tried to dissuade Tahrir al-Sham during the warning period, he told Diyaruna.
"But their efforts failed and the group's security units intensified their patrols in all areas in preparation to take possession of the interim government's offices and institutions," he said.
Tahrir al-Sham's move is said to have been prompted by a statement by Yasir al-Hajji, head of the Syrian Interim Government's public relations office, who in an interview on December 4th stressed his government's "refusal to co-operate or work with any government related to terrorism in any shape or form", according to media reports.
Impact on civilians
Assaf said that as soon as news of Tahrir al-Sham's warning spread, heightened tension gripped ​​Idlib province, especially in the city of Idlib and surrounding towns.
"Residents began preparing to leave the region to other areas fearing that the situation would very soon erupt into military confrontation," he said.
Tahrir al-Sham's decision will have serious consequences on Idlib as most residents work in local councils and service facilities such as water, electricity, roads and schools that are under the purview of the interim government, he said.
If the group succeeds in its efforts, these employees will be "replaced with people affiliated with Tahrir al-Sham", said Assaf.
"Tahrir al-Sham's insistence on suspending the interim government's activities will have very serious repercussions on the Syrian people," Syrian journalist Mohammed al-Abdullah told Diyaruna.
It will impact reconciliation talks abroad and will be felt daily inside Syria, he said, as Idlib is the only remaining region in the country controlled by groups opposed to the Syrian government.