On a recent day in February, a group of volunteers armed with paint brushes and brooms took up the task of removing the "Islamic State of Iraq and the Levant" (ISIL) slogans and debris that mar the main streets of east Mosul.
Daoud al-Hafiz, 30, of east Mosul, is the founder and organiser of a popular campaign to remove all traces of ISIL from Mosul, and to clean and rehabilitate roads and public infrastructure damaged during the group's takeover of the city.
Dozens of young residents are taking part in the volunteer campaign, which kicked off January 26th in the recently liberated residential neighbourhoods of eastern Mosul .
The goal is to "restore the beautiful image of the city", al-Hafiz told Diyaruna. "We have dubbed our campaign, 'Make It More Beautiful', meaning, let us make Mosul more beautiful than it was before ISIL's occupation."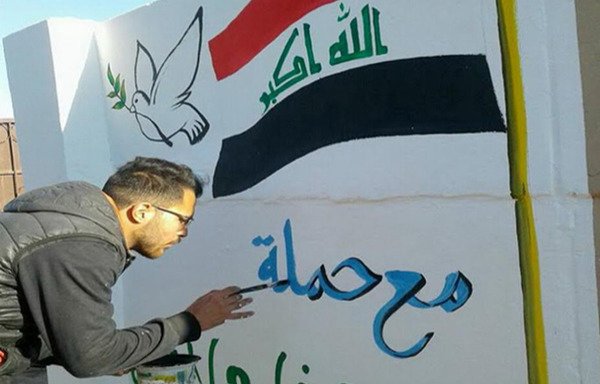 The effort started with a group of about 60 volunteers, he said. "Now, we have more than 160 participants, including civil activists, engineers, craftsmen, media professionals and various sectors of society."
Erasing all traces of ISIL
"We have erased terrorists' signs including pictures, writings and slogans from streets, squares and public buildings," al-Hafiz said, with volunteers working on al-Zohour Street, al-Muthanna Street and al-Masaref Street, among others.
"In addition to erasing ISIL signs, the campaign includes removing debris and garbage, filling holes, painting pavements and rehabilitating median strips," he said.
"Our campaign has not been restricted to this, but also has included repairing several service departments that sustained damage as a result of war," he said.
"We have started with al-Khansaa Hospital, where work included cleaning and painting the delivery room, children's hall, internal medicine department, pharmacies and the administration offices."
"ISIL slogans on the walls of Tadmur and al-Shaqaq girls' schools have been erased, and instead we decorated them with phrases and drawings that express love of the homeland and hope," al-Hafiz said.
"Classrooms also have been repaired and painted, and the windows, electricity and bathrooms all have been fixed," he said.
Al-Hafiz said the volunteers have launched other initiatives as well, including donating blood to wounded soldiers and distributing water to residents.
"Our campaign continues and will not stop," he said. "Rather, it will extend to western Mosul neighbourhoods , where the Iraqi forces are now engaged in battles to expel ISIL elements from their last strongholds in the city."
Emerging from a dark era
In al-Hamdaniya, north-west of Mosul, residents have kicked off a similar campaign.
Volunteers have taken the initiative to erase ISIL slogans and signs from walls and buildings, and to paint pictures expressing happiness and the return of life.
Residents also have removed the Arabic letter "noon" which ISIL fighters had inscribed on the walls of Christian homes.
These kinds of volunteer initiatives express people's desire to turn the page on terrorism and to forget the images of war and destruction, said al-Hamdaniya municipal council member Abu Rabie al-Hayani.
"There are about 3,000 houses that have been damaged by the terrorists and the city is still suffering from a shortage of basic services, such as water and electricity," he told Diyaruna.
"Municipal campaigns have been kicked off to clean streets and residential neighbourhoods of debris and rehabilitate al-Hamdaniya Hospital which is now ready to provide services," he said.
Great hope, pride for Mosul
The local government encourages all volunteer initiatives and rehabilitation campaigns, said Hossam al-Din al-Abbar, who serves on the Ninawa provincial council services committee.
"I am proud of these popular efforts which reflect a spirit of co-operation and a desire to get rid of all the repercussions of terrorism," he told Diyaruna.
"Today, the people of Mosul, especially young people, are working as one team to remove ISIL flags and signs and contribute as volunteers in reconstructing the service departments in their city," he said.
" Service has been restored to many schools and hospitals, such as Ibn al-Atheer Hospital, which was reconstructed in record time with exceptional efforts from youth teams," he said.
"We have great hopes that Mosul will be fully liberated from terrorism, and that it will be soon brought back to life with its people and landmarks," al-Abbar said.