With ululation and shouts of joy, displaced families from the Iraqi city of Bartella celebrated the liberation of their city as part of a major battle announced last week to retake the "Islamic State of Iraq and the Levant' (ISIL) group's last major Iraqi stronghold of Mosul .
The residents of the predominantly Christian town, located some 20 kilometres east of Mosul, have been forced to leave their homes after it was overrun by ISIL gunmen in the summer of 2014.
On Monday (October 24th), Iraqi forces announced they had taken full control of Bartella after eliminating the last ISIL pockets from the town.
Jamila Sami, or Umm Rafid, is one of the thousands of displaced people who have taken shelter in the city of Erbil.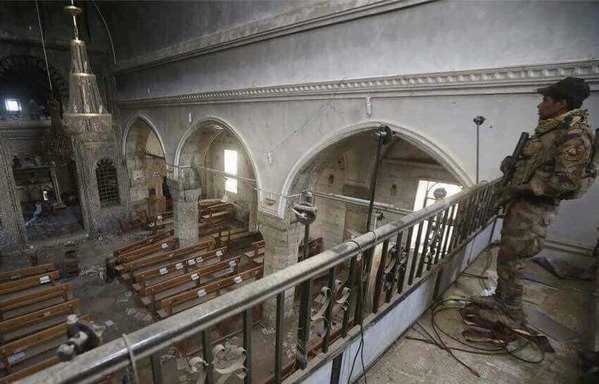 "My joy has no limits," she told Diyaruna as she was exchanging greetings with fellow residents in Erbil.
"When I heard my town had been liberated, I cheered and cried with such overwhelming joy that I fainted," she said. "I had vowed that if Bartella was liberated, I would distribute sweets to all people in the neighbourhood, and I am now delivering on my pledge, together with many other women."
"Darkness has finally cleared and we will soon be able to go back home," Umm Rafid said. "We thank God and thank our brave soldiers."
ISIL's fortifications in Bartella did not last long in the face of the Iraqi forces' heavy fire and their sudden push into the heart of the town, officials told Diyaruna.
The battle to overtake Bartella "lasted 24 hours", anti-terrorism agency spokesman Sabah al-Naaman said. "The town is now secure. We have eliminated the last pockets of terrorists and blew up 21 car bombs and hundreds of improvised explosive devices (IEDs) and mines."
A total of 80 ISIL gunmen were killed in the offensive, he added.
Limited destruction
"The town's liberation means a great deal to our forces," he said, noting that it was the first obstacle that Iraqi forces needed to cross from the east on their way to Mosul.
"Now it has collapsed," he said. "The danger has been removed and we did not give the terrorists an opportunity to destroy citizens' homes and public facilities."
"Damages from the fighting are limited, and this will enable us to bring back the displaced fairly quickly," al-Naaman said.
After liberation was completed, Iraqi soldiers took to cleaning the area's churches and sounding their bells "for the voice of peace to be heard in all directions", he said.
"The terrorists have no place there anymore," he said.
An estimated 60,000 people, most of whom are Christians, lived in Bartella. The city was "a safe place where all sects and religions co-existed, and it will go back to what it was, and even better", said Duraid Hikmat, an adviser to the governor of Ninawa.
"The town has not experienced great destruction at the terrorists' hands," he told Diyaruna. "The battle for its liberation, fought by the heroes of the anti-terrorism agency and the soldiers of the 19th Division, was very clean."
"Displaced residents are today waiting impatiently for the start of the efforts to bring them back to their homes, which I do not imagine will take long," Hikmat added.
"The town is free of terrorists, but the security forces might need more time to make sure it is clear of explosives and to enhance security," he said.
Mosul's eastern gate
By losing Bartella, ISIL has lost an important stronghold that serves as Mosul's eastern gate, he said.
"Soon there will be no more presence for ISIL in Ninawa, and Iraq as a whole," he added.
"This is a great victory for our brave soldiers over the forces of evil," Iraqi MP for Ninawa province, Yonadam Kanna, told Diyaruna.
The enemy's resistance "is gradually weakening as result of the painful blows it is taking, and its end is imminent", he said.