Aborî
|
2019-06-12
Kurdên Sûrîyayê di amadebaşîyê de ne piştî ku agir genimên li nêzî cihên neftê şewitandin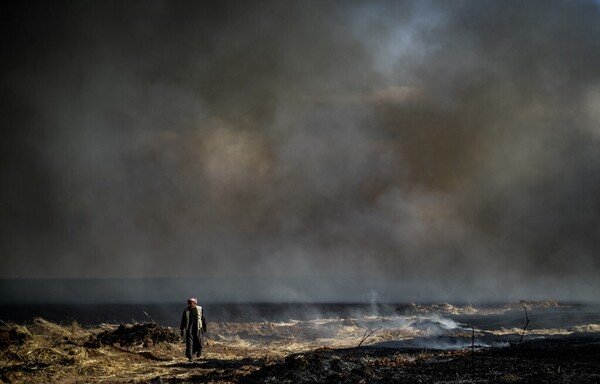 Berpirsekî Kurd li bakur û rojhilatê Sûrîyayê Duşemê (11ê Hezîranê) bang li hevpeymanîya navdewletî kir ku alîkarîyê bike piştî ku agir bi zevîyên genim ên jîndar ket di pêla herî nû ya agir de li seranserê welat.
Kurdên Sûrîyayê şerê li dijî "Dewleta Îslamî" (DAIŞ) li bakur û rojhilatê welat, bi piştgirîta hevpeymanîya serbazî ya ku Amerîka rêbertîya wê dike, bi rê ve birin.
Di demekê de ku şerê navxweyî yê heşt salankêm dibe, ew hewl didin ku heta rêjeyekê hukimranîyeke xweser bi dest bixin li devereke dewlemend bi genim û ceh û zevîyên neftê yên dewlemend û wan bixin jêr kontrola xwe li bakur û rojhilatê welat.
"Îro agir bi sedan hiktarên genim li Tirbesipîyê dane ber xwe û hîn agir li zevîyan dileyize," serokê desteya çandinîyê ya Kurdî Selman Barûdo got, dema wî behsa bajarokê ku bi Erebî jê re tê gotin Qehtanîyê kir.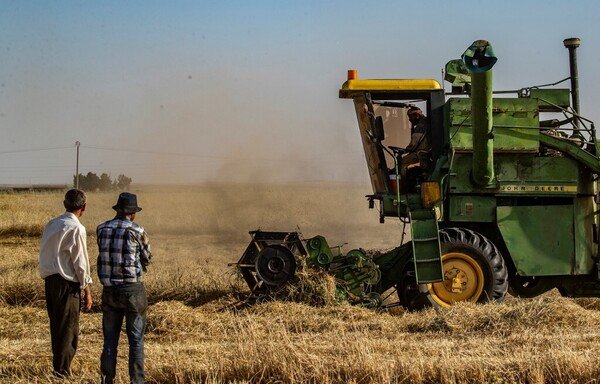 "Xeterî li ser herêmê mezin e ji ber agir nêzîkî bîr û stasyonên neftê ye," wî hişyarî da.
Peyamhinêrekî AFP dît ku ewrên dûmanê yên reş ji ser zevîyên zêrîn ên dişewîtîn bilind dibûn, dema mêran hewl da ku agir bi carûdan vemirînin tenê çend mitran dûrî cihê neftê.
Mêrekî bi beldozerekê hêvîşikestî hewl dida ku erdê bajo da nehêle ku agir berbelav bibe.
"Em ji hevpeymanîya navdewletî dixwazin ku destwerdanê bike da ku agir bi balefirên agir ên taybet vemirîne" balefirên ku li bal me nînin, Barûdo wiho bang kir.
Ebdulrezaq Mehmûd ê 29 salî, cotkarekî genim e, got ku erdê malbata wî wêran bûye.
"Agir bi çil û pênc hiktar erd ketiye, û tenê heşt hiktar jê filîtîne" piştî ku agir Yekşemê pê ket, wî got.
Şerê Kurd û rejîmê yê li ser genim
Piştî salên hişkahîyê û di pişt re şerê navxweyî, vê salê Sûrîya mûsimekî gelek pêşbîn dike -- ku beşekî mezin jê li bakur û rojhilatê welat e.
Li parêzgeha Hesekê ku selika xwarinê lê ya ku Kurd bi rê ve dibin, ya ku Tirbesipîyê beşek jê ye, DAIŞê angaşt ku wê gelek êrîşên ji qesd li ser zevîyên genim kirin.
Lê cotkaran herwiha gazin ji êrîşên tolhildanê, mazota kwalîte kêm ku hişt çirawîsk çêbibin, û heta xemsarîyê jî kirin.
Hikûmeta Şamê û desthilatdarîya Kurdî pêşbirkê dikin da ku berhemên genim ê vê salê li bakur û rojhilatê welat bikirin.
Şîrovekar dibêjin ku genim dê kilîtek be da ku nan bi nirxin kirînbar be û aştî li gelek deverên Sûrîyayê di dema tê de misoger bibe.
Cotkarên herêmê di nav herdu alîyan de mane.
"Divê debara me nebe kerteke bazara siyasî", cotkar Adil Osman ê 55 salî got.
Rejîm nirxekî baştir dide, lê Kurdan got ku nabe tu genim ji herêma li jêr kontrola wan derkeve.
"Em dê zadê xwe bifiroşin ê ku herî bêtir dide me," Osman bi Kurdî li zevîyê xwe li devera Amûdê got.
"Dawî, cotkar dixwaze qezencê bi dest bixe," wî got.
Cotkar bi awayekî taybet dixwazin ku zadên xwe bifiroşin da ku xisarên mûsimên salên berê vegerînin, lê herwiha da ku mûsim ji agiran biparêzin.
"Krîzeke xwarinê"
"Kurd naxwazin ku genim ji herêma wan derkeve ji ber berhem bi zor a têr dike ku niştecîyên xwecihî bi xwarin bide," pisporê Sûrîyayê Fabrîs Balanş got.
"Eger genim ji ber nirxên buhatir çû Şamê, ew dê bibe sedema krîzeke xwarinê," wî anî ziman.
Li gorî Programê Xwarinê yê Cîhanî, 6.5 milyon kes li Sûrîyayê "derdê ne-ewlebûnê di warê xwarinê de dikişînin", an nizanin bê danê wan ê xwarinê yê tê ji kû dê were.
Vê salê Sûrîya mûsimekî fireh pêşbîn dike piştî barana pir, piştî ku mûsimê genim ê sala par ê herî pîs bû ji sala 1989an ve.
Hikûmeta Sûrîyayê 850,000 ton genim ji parêzgeha Hesekê pêşbîn dike.
Serokê ofîsa çandinîyê ya hikûmeta Şamê li Hesekê, Amir Silo, Ji AFP re got ew pêşbîn dike ku ew dê piranîya mûsimê parêzgehê bibin.
"Navendên hikûmî yên pêşwazîya zadan dikin dê gelek cotkar xwe li wan bigirin ji ber nirxên balkêş," wî got.
Kurdan meha bûrî nirxên kirîna kîloyek genim ji 150 bo 160 lîreyên Sûrî (0.37$) zêde kir, lê hîn jî ew têrê nake ku pêşbirkê bi nirxê ku rejîm pêşkêş dike re bikin, ku 185 lîreyên Sûrî ye.
Selman Barûdo Serokê desteya zadan a Kurdî rejîm bersûc kir ku wê nirxên buhatir îlan kirin "da ku lihevnekirinê bixe nav xelkê û birêveberîya xweser de".
"Genim çekek e"
Şerê Sûrîyayê bêtirî 370,000 kes kuştin ji çaxê ku di sala 2011an de dest pê kiriye.
Piştî serkeftinên pey hev li dijî komên tundrew û yên opozîsyonê ji sala 2015an ve, rejîma Serok Beşar Esed îro dora 60% ji welat kontrol dike.
Lê Sûrî li van deveran xebatê dikin da aborîyeke ku şer ji hev xistiye bi dest bixin, herwiha ew rastî kêmbûna sotemenîyê jî tên.
"Hewcedarîya Esed pê heye ku zadên li bakur û rojhilatê Sûrîyayê bi dest bixe da nehêle ku krîzeke nan li deverên rojavayî yên Sûrîyayê yên ew kontrol dike çêbibe," şîrovekarê Sûrî Nîkolas Heras got.
Şam û Kurdan dest bi giftûgoyên derbarê pêşeroja bakur û rojhilatê Sûrîyayê kir, lê heta aniha ew negihane tu encaman.
"Genim çekekî pir hêzdar e di pêngava şerê Sûrî ya tê de," Heras got.
"Dibe ku genim were bikaranaîn da ku fişarê li rejîma Esed bikin û di rêya rejîmê re li Rûsîyayê jî bikin, bo sepandina sazişan di proseya dîplomatîk a ku NY bi rê ve dibe" da ku şer li Sûrîyayê bi dawî bikin, wî got.
0 KOMÊNT