BEIRUT -- Hizbullah's activities near Sayyida Zainab shrine in the southern suburbs of Damascus are serving Iran's plan to bring about demographic change in Syria and secure the Tehran-Beirut land corridor, experts said.
According to the Syrian Observatory for Human Rights, Lebanese Hizbullah is "working to expand an old Syrian military base" south of Damascus for use as a training and operations centre for unmanned aerial vehicles (UAVs), or drones.
The work in progress at the compound in the Sayyida Zainab area "includes underground construction", according to the Observatory, which is apparently intended "to protect Iranian drones from Israeli strikes".
Hizbullah has driven local farmers off their land to prevent them from documenting construction activity near the key Shia shrine, which has long served as a destination for pilgrimage, the Observatory said.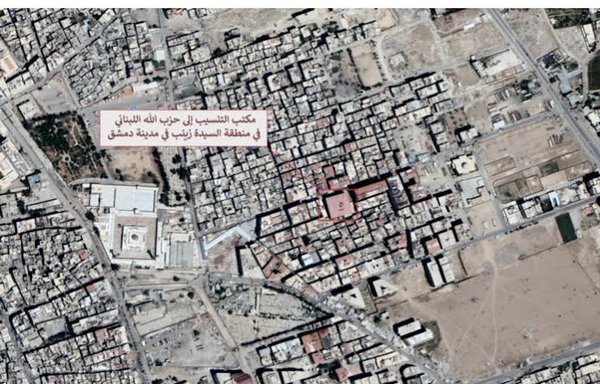 It noted meanwhile that Iran's Islamic Revolutionary Guard Corps (IRGC) and allied militias have assumed near total control of al-Dimas air base, west of Damascus, using it in place of Tiyas (T-4) air base in Homs province.
Earlier this month, Iran announced it was resuming religious tourism flights to Damascus, two years after they were suspended due to the coronavirus pandemic, after receiving full approval from the Syrian authorities.
Underground weapons storage
Hizbullah elements have been constructing "concrete fortifications above and below ground in the Khirbet al-Ward area near Sayyida Zainab", Observatory director Rami Abdel Rahman told Al-Mashareq.
"They are digging tunnels and shelters and storing weapons and suicide drones in them," he said.
Suicide drones, also known as "loitering munitions", linger around the targeted area and attack once they pinpoint a target.
"Hizbullah uses religious shrines, especially Sayyida Zainab, as headquarters for its expansionist activities in service of Iran's expansionist project," Abdel Rahman said.
The Iran-backed party paved the way for this by forcing out local residents and settling foreigners -- including Iraqis and Afghans -- in their place, under the pretext of protecting the shrine, he said.
"They recently expelled the remaining farmers for fear that they would spy on them, as the party has lost its trust in Syrians," he added.
According to Abdel Rahman, the real purpose of the resumption of Iranian pilgrimages "is merely to settle Iranian families near the shrine of Sayyida Zainab and other Shia shrines".
Iranian hegemony in Damascus
Abdel Rahman said Hizbullah's activities in Sayyida Zainab "come in the context of the Iranian project aimed at imposing its hegemony over Damascus and Beirut".
To this end, he said, "Iran has set up checkpoints, via its militias, from Albu Kamal to Homs to serve its expansionist project and its own agenda, which includes controlling the Albu Kamal crossing".
The key border crossing, which links the Syrian town of Albu Kamal with the Iraqi town of al-Qaim, was brought under Iranian control by the late IRGC Quds Force commander Qassem Soleimani.
All of Hizbullah's activities in Sayyida Zainab "confirm the existence of an Iranian regional expansionist project, stretching from Tehran, through Iraq and Syria, to Beirut", Syrian opposition figure Samir Nashar told Al-Mashareq.
Iran and Hizbullah consider the Syrian-Lebanese border area to be the main incubator for their project, which began with an aggressive push for demographic change in these areas, he said.
The groundwork for this was laid with the "Four City Agreement" of 2017, which saw people relocated from the predominantly Shia towns of Fuaa and Kafraya to regime-controlled areas of Damascus, he said.
Locus of Iranian intelligence
In 2014, some years after intervening in Syria in support of the regime of Bashar al-Assad, Iran established a military academy in the Sayyida Zainab area, Syrian opposition figure Turki Mustafa Hadid told Al-Mashareq.
This became the "most important military site" for training Iran-affiliated fighters, who undergo military physical fitness courses and training on the use of weapons" under the supervision of Hizbullah trainers, he said.
Since 2014, he said, Hizbullah has been using the academy's warehouses to store short-range Iranian Heidar missiles, and the Syrian regime's 4th Division moved its warehouses from al-Kiswah in rural Damascus to that location.
Hadid said Hizbullah is developing the site and building fortifications above and below ground, expanding tunnels and underground warehouses so it can increase its storage capacity for weapons and drones.
He said Hizbullah "activated a base at al-Dimas airport for gliders that was upgraded by the Iranians in early 2019, and devoted it to the development of remote control drones for combat and espionage purposes".
The Iran-backed party is also using al-Dimas "as an intelligence base and headquarters for meetings attended by Hizbullah commanders", he said.
Hizbullah's expansion near shrine
Southerners for Freedom co-ordinator and Lebanese political activist Hussein Ataya said Hizbullah's activities in the Sayyida Zainab shrine area are not new.
The city and its environs have been turned into a stronghold and a closed military base for Hizbullah, which has been the IRGC's strongest proxy since it entered the war in 2011 under the pretext of protecting the Shia shrines.
He said Hizbullah is "using some Syrian military bases abandoned by the regime's forces, and is repairing and fortifying them by adding underground sections".
It is carrying out this work "under the supervision of specialised IRGC officers and advisors, who train Hizbullah and Houthi elements on how to use drones and rig them with explosives", he said.
Ataya said the resumption of Iran Air flights carrying pilgrims to Sayyida Zainab shrine is likely "covering up and camouflaging the resumption of the transfer of funds to Hizbullah and some types of weapons and munitions", as well as fighters.