BAGHDAD -- Iraq on Monday (October 18) announced the arrest outside the country of the suspect behind a 2016 "Islamic State of Iraq and Syria" (ISIS) attack that killed more than 320 people in Baghdad's al-Karrada district.
The July 3, 2016, incident was one of the deadliest single attacks in Iraq in more than a decade, and has been described as one of the deadliest in the world.
"Five years after the terrorist bombing of al-Karrada, our brave forces succeeded in capturing the terrorist Ghazwan Alzawbaee in a complex intelligence operation outside the country," Prime Minister Mustafa Kadhemi said on Twitter.
"He is the primary culprit behind the al-Karrada atrocity and many others."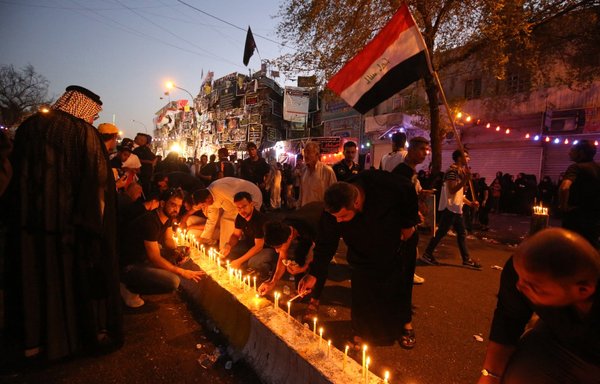 In the 2016 attack, a bomber detonated a minibus packed with explosives near a crowded shopping centre on al-Karrada al-Sharqiya Street, as shoppers were preparing to celebrate Eid al-Fitr.
The blast went off between two high-rise buildings, compounding the impact and force of the explosion, security expert Abdel Karim Khalaf said at the time.
ISIS later claimed the attack.
Iraqi army spokesman Yahya Rasul said Alzawbaee "carried out many criminal operations against our people of Iraq", including several attacks in the capital.
Alzawbaee's arrest comes a week after Iraq captured ISIS's suspected 'finance minister', Sami Jassem Mohammed al-Juburi, also in an operation conducted at least partly outside its borders.
Al-Juburi, also the suspected former deputy to the late ISIS leader, Abu Bakr al-Baghdadi, was arrested "in Turkey", according to a senior Iraqi military source.
United against ISIS
Following the attack, the authorities issued orders to consolidate security in the capital, which included speeding up the completion of the Baghdad security belt.
Security forces stepped up measures at the entrances to al-Karrada, deploying teams of trained police dogs and installing new surveillance cameras, in addition to carefully inspecting every vehicle entering the area.
Iraqi officials said the al-Karrada attack and others like it were meant to inflame sectarian tensions among city residents but instead had the opposite effect, uniting Iraqis in grief and in their resolve to rid the country of ISIS.
The Iraqi government declared victory against ISIS in late 2017 after an extended military campaign backed by the international coalition.
Al-Baghdadi was killed in a raid by US special forces in northwestern Syria in October 2019.
ISIS sleeper cells still launch sporadic attacks in Iraq. But according to an international coalition official who spoke on condition of anonymity, ISIS is now "stretched" financially and its operations in Iraq are "very localised".