The United States is providing assistance to Iraq to recover smuggled antiquities and reconstruct its archaeological edifices, many of which the "Islamic State of Iraq and Syria" (ISIS) reduced to rubble.
Authorities have returned more than 17,000 looted artefacts recovered from the United States and several other countries to Iraq's Ministry of Culture, Tourism and Antiquities, the ministry announced Tuesday (August 3).
A number of the artefacts recovered in the United States were sent back to Iraq with Prime Minister Mustafa Kadhemi following his two-day trip to Washington.
The significantly large restitution was the result of a year of co-operation with the US government and academic institutions, such as Cornell University, Iraqi Culture Ministry spokesman Ahmed al-Olayawi said.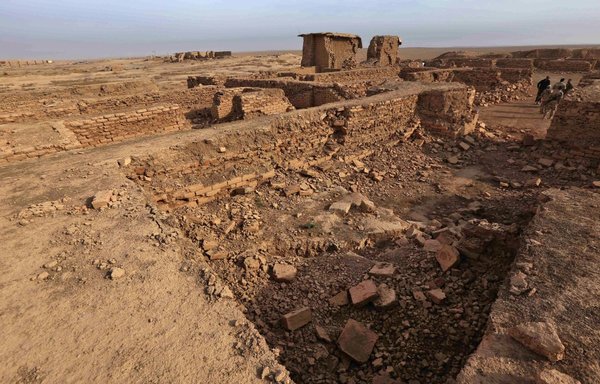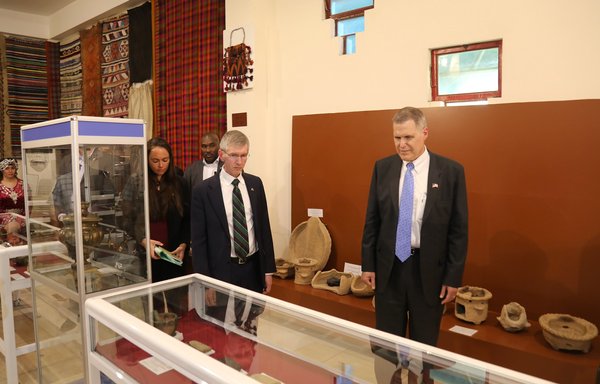 It resulted from US co-ordination with Iraq's Foreign Ministry and the Iraqi embassy in Washington, he told Al-Mashareq.
Most of the artefacts document "the commercial exchanges during the Sumerian period", the ministry said in a statement.
The recovered pieces consist of "clay sealings and tablets dating back to about 4,500 BCE and are relics of the Sumerian civilisation", al-Olayawi said.
They also include a fragment of an important Sumerian tablet with a sequence from the Epic of Gilgamesh, a king of the Sumerian city of Uruk.
"What we recovered is a priceless treasure that makes up an essential part of our history and cultural heritage," al-Olayawi said.
He commended the United States on this "extraordinary act" and said he hoped it would encourage other countries to co-operate with Iraq in searching for and returning all smuggled Iraqi antiquities.
Reconstruction and restoration
Separately, the United States has been helping Iraq rebuild important archaeological landmarks that ISIS elements destroyed.
"There is an effort with the Smithsonian Institution to rehabilitate the historic city of Nimrud," al-Olayawi said.
Minister of Culture Hassan Nazim held a meeting during his visit to Washington with Smithsonian Institution representatives to expand their co-operation and look into rebuilding the Mosul Museum, he said.
The Nimrud archaeological site, near Mosul, sustained severe damage in 2015 when bombings and bulldozing damaged several of its landmarks, including the ziggurat of the Temple of Ishtar, the winged bulls, the throne room and other halls, turning hundreds of archaeological treasures into small scattered pieces.
ISIS also targeted other temples, as well as historic churches and museums.
"Rebuilding antiquities is not easy and cannot be done in a short period of time. However, with US and international support and expertise, we will certainly be able to complete the task," al-Olayawi said.
"We are taking good steps to save and restore our archaeological edifices that were destroyed by terrorism," he added.
On April 15, the US consulate in Erbil, in northern Iraq, announced that the United States would grant $500,000 toward the restoration and preservation of the historic Badinan Gate in Amedi district of Dohuk province.
It is one of several US grants for the reconstruction of Iraqi historical sites, such as the Lalish Temple of the Yazidi minority and the shrine of the Prophet Nahum in the town of Alqosh.
Grant money is paying for the restoration and development of the Suleimaniyah Museum and the Syriac Heritage Museum in Erbil.
Technical help and expertise
"We need the support of Washington and the international community as a whole to uplift the antiquities sector," said Iraqi MP Ali Jassem al-Hamidawi, who serves on the parliamentary committee on culture and antiquities.
"We need their help and their technical expertise," he said.
Iraq has more than 15,000 archaeological sites, a large number of which terrorists destroyed, he said, and others that were placed on the World Heritage List but have not undergone rehabilitation.
"International support will provide us an opportunity to protect our monuments from the threat of demise or annihilation," he said.
Al-Hamidawi praised efforts to restore Iraqi antiquities, adding that his committee continues to follow up on efforts by local authorities to recover Iraq's smuggled antiquities from around the world.
During the Iraqi delegation's visit to Washington, officials discussed an initiative to establish a virtual museum named "Treasures of Mesopotamia" that would enable millions worldwide to learn about Iraq's rich cultural heritage.
"The project will undoubtedly add an artistic value that highlights Iraq's history and culture," al-Hamidawi said.
"It is important to acquaint the world with our ancient civilisation, and the museum would serve as a gateway for anyone to discover our civilisation and its achievements for humanity," he said.