While Deir Ezzor residents in regime-controlled areas face a critical shortage of medical facilities, Iran-aligned militias have reserved a number of hospitals and medical centres for their own use, activists told Diyaruna.
The Syrian regime's institutions are neglecting residents' health and medical needs in certain areas of Deir Ezzor, especially the border town of Albu Kamal, Albu Kamal media activist Ayham al-Ali told Diyaruna.
He said this is happening despite the promises the regime of Syrian president Bashar al-Assad made to civilians at the time its forces took control of the area.
The regime also has failed to repair hospitals that were damaged or destroyed during the battles to oust the "Islamic State of Syria and Iraq" (ISIS), he said.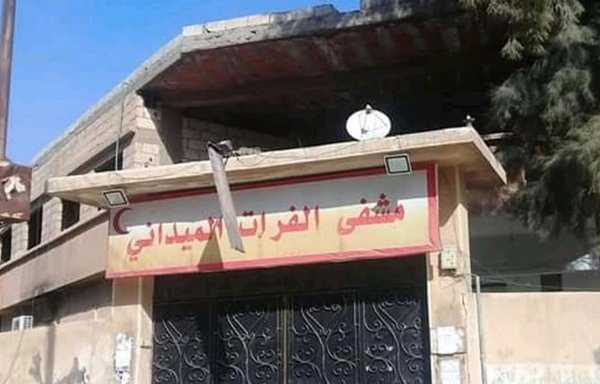 Shortage of staff, equipment
Al-Ali said just one government hospital in Deir Ezzor city is operational at present, along with a small number of clinics in al-Mayadeen and Albu Kamal, but these facilities lack sufficient medical equipment and mediciations.
Al-Assad Hospital in Deir Ezzor city is short-staffed, he said, noting that patients, including those of the maternity ward, wait for hours and sometimes days to be seen by a doctor.
Additionally, he said, Syrian regime forces and allied militiamen "interfere with the hospital staff's work and sometimes exclude certain patients from receiving treatment".
In some cases civilian staff, including doctors and nurses, have been "beaten, abused and threatened with arrest" if they fail to obey treatment orders that are dictated to them, he said.
The single medical centre serving the city of Albu Kamal and its surrounding areas operates only during working hours (8 a.m. to 4 p.m.) and it is short of medical personnel, equipment and essential medicines, al-Ali told Diyaruna.
The shortages in medical staff, facilities and equipment have worsened amid the novel coronavirus (COVID-19) pandemic, he said, noting that there has been a critical shortage of ventilators.
Meanwhile, in parts of the province controlled by the US-led Syrian Democratic Forces, the international coalition has been providing vital support to the service sector, including the start of rehabilitation works on the Hajin Hospital in mid-October.
'Regime, militias to blame'
Deir Ezzor activist Ammar Saleh told Diyaruna the Syrian regime and militias affiliated with Iran's Islamic Revolutionary Guard Corps (IRGC) are largely to blame for the poor health conditions in the eastern Syria province.
They have taken over al-Furat field hospital in Deir Ezzor city, he said, as well as al-Quds and al-Hana hospitals in Albu Kamal.
Al-Hana hospital's name was changed to al-Shifa, he said. Aisha Hospital, now known as Imam al-Baqer Hospital, is controlled by Lebanese Hizbullah and is heavily guarded.
Saleh said new field hospitals have been established by Russia-affiliated militias.
One was made from two repurposed houses in the town of Madan, on the outer edge of neighbouring al-Raqa province, he said, while the other is in Deir Ezzor city's al-Filan district.
Albu Kamal resident Luay al-Sufi, who works in the food sector, told Diyaruna that residents of his city and the surrounding countryside are suffering greatly from the shortage of health services.
He said there are few hospitals treating emergency cases, and this forces civilians to travel to Deir Ezzor or Damascus for treatment or medication, which burdens them with extra expenses they can ill afford.
Moreover, al-Sufi said, travel not only worsens a patient's condition, it also exposes them to other dangers, such as being subjected to extortion along the route or forced to bribe militia elements or even outright robbed.