The US will continue to press on with efforts to ensure Iran "does not inflict more harm on the world" after the UN Security Council on Friday (August 14th) rejected a US resolution to extend an arms embargo on Iran.
Iran remains a threat to the region and beyond, regional experts told Al-Mashareq, as it has continued to develop its missile programme under the existing sanctions, which remain in effect through October 18th.
"The US is determined to make sure that the Iranians and this regime, this theocratic regime, does not have the capacity to inflict even more harm on the world," US Secretary of State Mike Pompeo said Saturday.
US President Donald Trump vowed Saturday to unilaterally reinstate UN sanctions on Tehran, indicating an announcement would be made this week.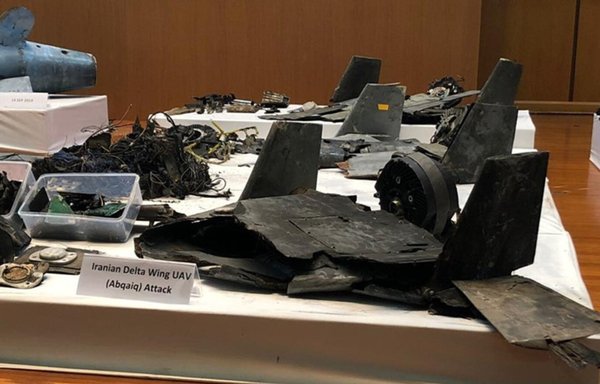 "We'll be doing a snapback," Trump said.
He was referring to the contested argument that the US remains a "participant" in the 2015 Iran nuclear deal, despite its withdrawal from it, and therefore can force a return to sanctions if it sees Iran as being in violation of its terms.
Iran's continued defiance
"Iran continues to defy international laws and the international community with its lack of adherence to, and even constant and deliberate violation of, the UN arms embargo imposed by Resolution No. 1929 in June 2010," said Abdullah al-Dakhil, a lecturer at King Saud University's faculty of political science in Riyadh.
"This has been confirmed by the UN itself in a report presented by Secretary-General Antonio Guterres, that confirmed the [missiles used in] attacks on the Saudi company Aramco that were attributed to the Houthis are of Iranian origin," he told Al-Mashareq.
The Iran-backed Houthis (Ansarallah) in Yemen claimed the September 14th, 2019 strikes on two oil plants owned by Saudi Arabia's energy giant Aramco.
Despite evidence clearly pointing to Iran's involvement, Tehran has continued to deny responsibility and to divert attention to the Houthis, a militia backed by its Islamic Revolutionary Guard Corps (IRGC).
In opposing the resolution to extend the embargo, al-Dakhil said, China and Russia are ignoring "the targeting of civilians and civilian facilities, which is criminalised by international laws".
In this way, they are becoming willing accomplices of Iran's malign actions.
Furthermore, he said, the attacks on oil facilities have a bearing on the amount of global oil that is extracted and pumped daily, and "impact, in one way or another, global oil prices due to the damage to the facilities".
"Both are sensitive issues, if any party is accused of committing them or even supporting them, which applies to Iran, the perpetrator of the crime, and China and Russia, who are trying to cover up these acts," he said.
Iran hiding behind its militias
Iran has engaged in direct and indirect threats and attacks against Gulf states and others "through its support, with money and weapons, to the armed affiliates of the IRGC", Saudi military expert Mansour al-Shehri told Al-Masahreq.
"Iran is trying to hide behind these groups and use them as a curtain for its operations, as it did with the Houthi missiles that were fired at the Aramco [facilities]," he added, noting that these were confirmed to be of Iranian origin.
The report presented by the UN Secretary-General also matches "the findings of specialised Saudi teams on the origin of these missiles", he said.
In addition, "the US has thwarted the transport of these weapons on at least two occasions, in November 2019 and February 2020", he said.
Many reports have pointed to "the existence of warehouses for these missiles" in countries such as Yemen, Iraq, Syria and Lebanon, he said, which poses a threat to the entire Middle East region.
"It is not unusual for the IRGC's leadership and Iran to constantly lie about violating the arms embargo and portray itself as the victim of injustice," Fathi al-Sayed of al-Sharq Centre for Regional and Strategic Studies told Al-Mashareq.
"We are accustomed to seeing this from the Iranian media machine, which uses stalling and lies as a tactic to achieve its aims," the Iranian affairs specialist said.
"Iran considers the transport of weapons to its affiliates abroad as essential to enabling it to create perpetual tension the region continuously," he added, noting that the IRGC openly boasts it is continuing to develop weapons and ballistic missiles that are capable of carrying nuclear or chemical warheads.