A small project started by a Mosul nonprofit has been helping the city in two ways -- by producing face masks to slow the spread of novel coronavirus (COVID-19) and providing jobs for around 45 low-income women.
At the city's Good Deeds housing complex, a group of women sew face masks at a workshop set up by the People of Hadbaa Relief and Development, a local organisation that supports the poorest segment of the population.
Volunteer Safaa al-Obaidi, who supervises the workshop, told Diyaruna it provides "a main source of income for these women to support their families".
The project aims to fight poverty, while providing a safe working environment for women in need of support, she said.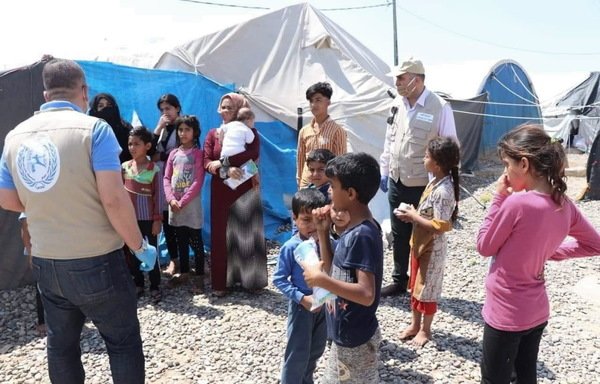 As a result of high demand from individuals and companies amid the global health crisis, "the workshop is now manufacturing medical masks", she said.
"Each woman is producing 200 masks per day," she said, and there are plans to expand the workshop to include the production of medical protective garments.
The sewing workshop is one of three that the People of Hadbaa Relief and Development opened a few months ago in an effort to provide jobs for women, said the organisation's president, Ula Laith al-Othman.
"This project started with the spread of the coronavirus," she told Diyaruna. "I decided, with the limited means available, to open a small workshop for sewing masks and providing work opportunities for a small number of women."
Plans for expansion
The effort was well received, al-Othman said, and after it began, "others stepped in to help me expand the project".
"We started with only four female workers, and over a short period of time, we opened three workshops that employ 45 women," she said.
Among the employees are widows and poverty-stricken women, as well as women who lost their livelihoods as a result of the pandemic, al-Othman said.
"The workshops currently specialise in making medical face masks, with a total of nearly 10,000 masks being produced to cover local demand," she said.
Plans to manufacturing protective garments are in the works, with an initial goal of producing 500 of these garments a day, she added.
"The masks are sold to pharmacies and centres selling medical supplies at the nominal price of 250 Iraqi dinars ($0.25)," she said.
"Some of the medical masks produced are being given free of charge to hospitals and displaced persons living in camps, as well as to security personnel and needy people," she said.
"We hope the government and local authorities can support our efforts and help us attract more unemployed people through projects that allow them to earn money using their skills," she said.
Small-business loans
Ninawa province has made it a priority to address the issue of unemployment and poverty, said Mohammed Yahya Mohammed, director of the Ninawa office of the Ministry of Labour and Social Affairs.
"After the liberation of our province in 2017, the ministry directed its efforts towards securing job opportunities for the unemployed through a loan programme designated for small businesses," he told Diyaruna.
To date, the ministry has awarded loans of up to eight million Iraqi dinars ($6,700) to nearly 1,100 applicants from Ninawa province, he said.
These applicants, both men and women, are registered in the ministry's database as unemployed individuals who hope to start a small business, he said.
The ministry is planning to extend loans to a larger number of applicants, especially in light of the current health crisis, he said.
It is in the process of launching another loan scheme, "The Business Incubator Programme", which will provide operating capital of up to 20 million Iraqi dinars ($16,800) for development-oriented businesses.