Iraqi forces are "able and prepared to quell any escalation" in "Islamic State of Iraq and Syria" (ISIS) activity, a military official told Diyaruna Monday (May 4th).
Iraq has seen an increase in ISIS attacks on security forces over the last few days, with analysts saying the group's remnants are exploiting a coronavirus lockdown, coalition troop withdrawals and simmering political disputes to ramp up deadly attacks.
The attacks have been concentrated in isolated areas between the provinces of Diyala and Salaheddine.
The most violent took place in the area of al-Mukaishifa in ​​Salaheddine, when six fighters from the popular mobilisation forces' (PMF) 35th Brigade were killed at dawn Saturday by direct fire by ISIS militants, the Security Media Cell said.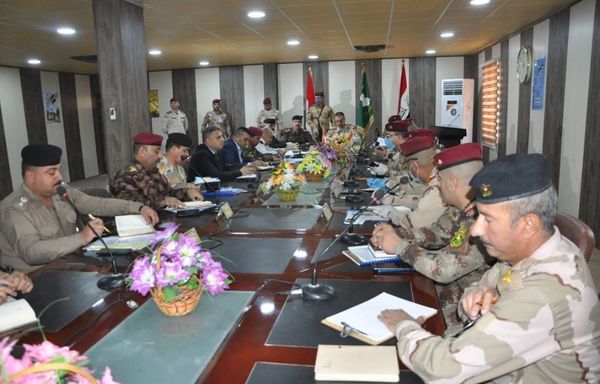 Three fighters were also killed and four others wounded when an improvised explosive device (IED) exploded as more members of the 35th Brigade arrived on scene to deflect the first attack.
Another attack on a force from the 41st Brigade killed one fighter in the village of Tal al-Dahab in Yathrib sub-district in Samarra.
ISIS remnants on Sunday carried out two attacks; the first targeted an Iraqi army post near the village of Ein Laila in the area of Dali Abbas in Diyala, wounding one soldier.
The second targeted a post of the PMF's 21st Brigade in the village of al-Ayeth in the area of ​Jalam al-Dour in Salaheddine, wounding three fighters, according to the Security Media Cell.
Readiness to quell escalation
The surge in terrorist attacks is a reaction to "the pressure exerted by the security forces on ISIS remnants", said Joint Operations Command spokesman Maj. Gen. Tahseen al-Khafaji.
"Our recent military operations have served the enemy painful blows in multiple locations," he told Diyaruna.
"The Salaheddine, Diyala, Samarra, Anbar, and al-Jazeera operations commands have carried out several attacks, killing a large number of terrorists, destroying their secret hideouts and seizing important intelligence information," he added.
The operations have "put heavy pressure on ISIS, which has mobilised all its remnants and sleeper cells to carry out separate attacks", he said.
The militants "want to destabilise security in order to reduce the pressure on them, stir terror and restore some of their degraded morale, especially in light of reports that the new leader of ISIS, the criminal Abdullah Qardash, has arrived in Iraq", al-Khafaji said.
The Joint Operations Command "reviews its plans and tactics whenever a security breach occurs or there is an emergency situation in the country, in order not to allow terrorist groups to take advantage of it", he said.
"Our measures are constantly changing, and we will also step up our operations against the enemy remnants to tackle these breaches," he added.
"We have the readiness and ability to quell any terrorist escalation through military and intelligence efforts, so our battle today with them is mainly one of information," he stressed.
'Crude, elementary'
ISIS fighters were using abandoned villages to edge towards urban areas, looking to re-establish funding mechanisms, smuggling routes and hideouts while targeting local infrastructure and officials to cause panic, Iraqi security expert Hisham al-Hashemi told AFP.
In part, the escalation may be linked to security units being redeployed to enforce a nationwide lockdown aimed at curbing the spread of the novel coronavirus (COVID-19), which has infected more than 2,000 people and killed over 90 in Iraq.
"These fighters took advantage of the fact that security forces were busy with imposing the curfew and began to move around much more freely," Adnan Ghadban, a tribal sheikh in the city of Baquba, said.
The extremists could also be exploiting the political deadlock in Baghdad, where top leaders are focused on tense talks over a new government.
"ISIS fighters have sensors on the political situation. Every time it deteriorates, they opportunistically increase their activity," said intelligence expert Fadel Abu Ragheef.
A significant troop drawdown by the 7,500-strong US-led coalition had also paved the way for ISIS to boost attacks, he told AFP.
Still, analysts and observers said the recent wave of ISIS attacks did not mean the group could once again threaten cities like it did in 2014.
"ISIS will not be able to return to its former size," said Abu Ragheef, in reference to the "caliphate" that the group declared across swathes of Iraq and Syria.
A senior official in the US-led coalition told AFP it had noted "successful low-level attacks" by ISIS in recent weeks but did not consider them a "substantial uptick".
"It is not just the number of the attacks but what is the quality of the attack? Is it complex? What equipment or tactics were used? Most of what we have seen has been crude and elementary," the official said.
Sam Heller, an independent analyst focused on extremist groups, said the recent shift hardly compares to the peak of ISIS activity in 2014.
Instead, they were "seemingly indicative of the group's more aggressive posture, not necessarily new and impressive capabilities," he wrote.