The population in Ninawa province displacement camps has been gradually shrinking as residents driven from their homes by the "Islamic State of Iraq and Syria" (ISIS) return in increasing numbers, local officials told Diyaruna.
Many of the displaced are opting to go back home, despite the difficulties associated with their return, such as poor public services and living conditions.
Among the recent batch of returnees was Bakr Salman and his family, who opted to leave al-Jadaa camp in early August and return to their home in Mosul.
Salman told Diyaruna he had been planning to return to the western Mosul neighbourhood of al-Saha for a long time, but his decision was delayed by reports of "poor public services" in that area.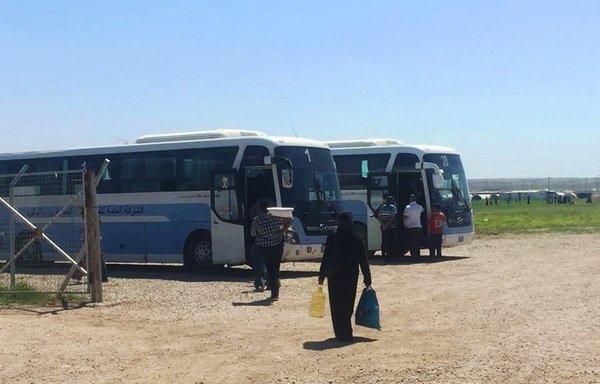 "Services are not great, but they have improved over the last two years, and this is what encouraged us to return," he said.
Salman said he feels lucky his house was not significantly damaged during the fighting, noting that "damaged homes and unemployment are among the main reasons why many displaced families did not go back".
Hundreds return each day
Over the past three years, the Ninawa Directorate of Migration has registered the return of 70,000 families from displacement camps on the outskirts of Mosul to their homes throughout the province.
Though there are certainly challenges, the displacement crisis in Ninawa "is not as dire as it was in the past", said Basman Akrem Ahmed, the directorate's head of public relations and media.
The directorate "receives between 300 and 500 requests a day from internally displaced persons (IDPs) who want to leave the camps and return to their homes", he told Diyaruna.
"We now have 20,000 completed forms from IDPs who are waiting to be classified as returnees," Ahmed said.
The directorate oversees 14 camps, most of which are located in southern Mosul: the six al-Jadaa camps, in addition to al-Mudarrij, al-Haj Ali, al-Namroud, Sinjar, two Hammam al-Alil camps and two al-Salamiya camps, he said.
"Since the beginning of 2016, a steady flow of IDPs have left the camps," he said, noting that only 33,000 families -- around 155,000 people -- remain.
The Iraqi Ministry of Migration and Displacement has provided many families who opt to return with financial support and other services, he said.
Grants of 1.5 million Iraqi dinars ($1,250) have been provided to 12,000 returning families, he said, of whom 6,400 are from Ninawa.
In addition to these grants, "the ministry offers a support programme for returnees in the form of vocational and employment rehabilitation and assistance with setting up small businesses", he said.
There are signs that the displacement crisis in Ninawa is "on its way to being resolved, in light of relative improvements in public services", Ninawa provincial council member Hussam Eddin al-Abbar told Diyaruna.
The council is working to bring Ninawa residents home by stepping up efforts to improve services such as water and electricity, and to repair the infrastructure such as roads and bridges, al-Abbar said.
Families return from Erbil
Displaced Ninawa residents are also returning from further afield, with around 8,500 returning from Erbil in the past few years, said Buraq Auf Abdul Rahman, head of relations at the ministry's office for the Kurdish region.
Six camps in Erbil -- the two Hassan Sham camps, al-Khazir, Daibka, Bahraka and Arsham -- accommodate thousands of IDPs from Mosul and other cities in Ninawa, he told Diyaruna.
The office is registering between 30 and 50 returning families a week which is a positive indicator, he said, "even though some families might have returned to the camps as a result of poor public services or scarce job opportunities".
The ministry is making a significant effort to encourage displaced residents to return home, he said, adding that "in the event an IDP is not successful in their return, our camps will welcome them back".