Western Ninawa province's Sinjar district has been the site of raging fires in recent days that have ravaged wheat fields and destroyed residential homes, causing casualties and displacement.
The fires broke out two weeks ago but have spread over the past four days to many areas in Sinjar, the district's mayor Fahd Hamed told Diyaruna on Wednesday (June 12th).
Around 7,000 dunams of wheat fields have burned down in Tal Houshi -- where many farms are owned by Yazidis -- al-Wardiya, and the villages of Rambousi, Zarafeki, Ajma, Bazraki, Zoumani, Tall Saqi, Khuneisi and Khilo, he said.
Areas in Gohbal in the northern sub-district of Sinun were also affected, he said, "with more than 120 dunams of farmlands damaged by the fires".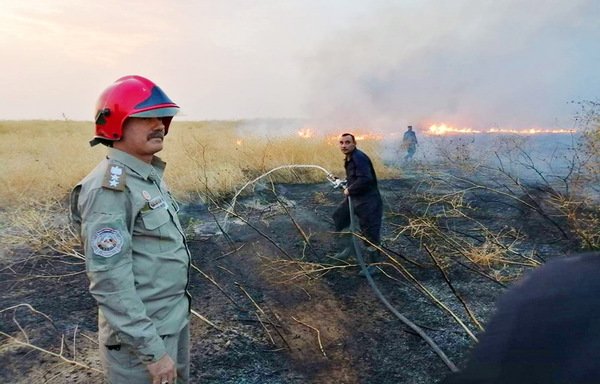 The fires have also burned down large numbers of residents' homes, said Hamed, particularly in the areas of al-Jazeera and al-Qahtaniya.
Dozens of families have been forced to flee their areas, he said, noting that the fire that broke out on Sunday in the towns of Burak, Zawrafa and Dahoula killed two people and left two others with burn wounds.
Fires could destroy mass grave evidence
"The fires have been burning since yesterday in farmlands in the areas of al-Hasimiya, Tal Banat and Tal Qasab in al-Qayrawan sub-district," he said.
They are also raging in the village of Koju, where most mass graves of Yazidi victims who were killed by the "Islamic State of Iraq and Syria" (ISIS) are located, said Hamed.
He expressed concern that the fires could decimate the evidence found in the mass graves discovered in the village, saying that "this would make it difficult to identify the remains and would deprive victims' families of their rights".
Local officials and media have blamed ISIS for setting fire to many wheat fields in the country, saying this was done in an attempt to extort farmers and harm the national economy.
Great efforts are being made to control the fires, said Hamed.
Civil defence firefighting units from Mosul and Tal Afar have been working round the clock for days to combat the fire in collaboration with security forces, he said, adding that local residents are also contributing to these efforts.