A suicide attack claimed by the "Islamic State of Iraq and Syria" (ISIS) killed 16 people including at least two US servicemen Wednesday (January 16th) in the northern Syrian city of Manbij near the Turkish border.
Nine civilians and five members of the Syrian Democratic Forces (SDF) were among the dead in the attack on a restaurant in the flashpoint city, the Syrian Observatory for Human Rights said.
According to the Observatory, at least two US members of the international coalition were killed in the attack targeting their patrol.
In a statement posted on social media, the international coalition said US service members were among those killed in the attack, without specifying how many.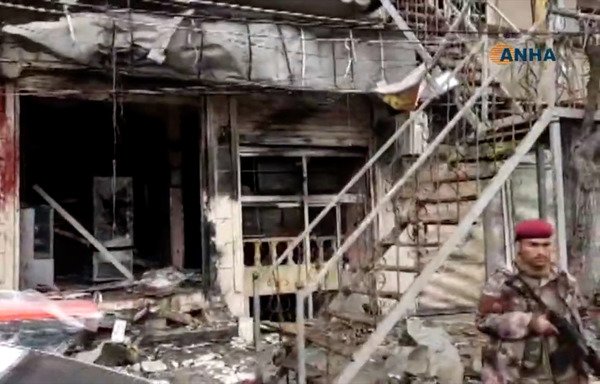 "US service members were killed during an explosion while conducting a routine patrol in Syria today," a coalition spokesman said in a statement.
"We are still gathering information and will share additional details at a later time."
Rubble littered the outside of the eatery in the city centre, footage from a Kurdish news agency showed, and its facade was blackened by the blast.
The Observatory said it was the first such suicide attack in the city against the international coalition battling ISIS in 10 months.
ISIS claimed responsibility for the attack on social media.
The name provided by ISIS suggests the bomber was Syrian.
ISIS no longer holds fixed positions in the Manbij area, and is currently defending its very last pocket of land against the SDF in eastern Syria.
The group retains the ability, however, to carry out deadly suicide attacks in many parts of the country.
Kurds reject 'safety zone' plan
The bombing came as Kurds, who control a large swathe of northern Syria, rejected a Turkish plan to set up a "security zone" on the Syrian side of the border.
On Tuesday, Turkey's President Recep Tayyip Erdogan said Ankara would set up a "security zone" in northern Syria following a suggestion by US President Donald Trump.
The planned buffer would embrace a large swathe of the autonomous region the Kurds have established in northern and north-eastern Syria.
Senior Kurdish political leader Aldar Khalil said any Turkish deployment in Kurdish-held areas was "unacceptable".
Khalil said the Kurds would accept the deployment of UN forces along a separation line between Kurdish fighters and Turkish troops.
But "other choices are unacceptable as they infringe on the sovereignty of Syria and the sovereignty of our autonomous region", he said.
The Kurdish People's Protection Units (YPG), which form the backbone of the SDF, have been instrumental in the fight against ISIS.
They have taken heavy losses in a campaign now nearing its conclusion, with ISIS confined to an ever-shrinking enclave of just 15 square kilometres.