Iraqi forces in Kirkuk have been doubling down on efforts to eliminate "Islamic State of Iraq and Syria" (ISIS) remnants in the province with a barrage of recent operations targeting the group, officials told Diyaruna.
Among these was an operation to dismantle a 27-member terror network in Kirkuk that had been responsible for October attacks in the city, said Kirkuk Operations Commander Maj. Gen. Maan al-Saadi.
Members of the network, among them a prominent ISIS commander known as Abu Abdul Rahman, were found to be in possession of suicide belts and enough explosives to make two car bombs, he said.
The network had been formed about six months ago, as part of ISIS's so-called Wilayat Kirkuk, he said.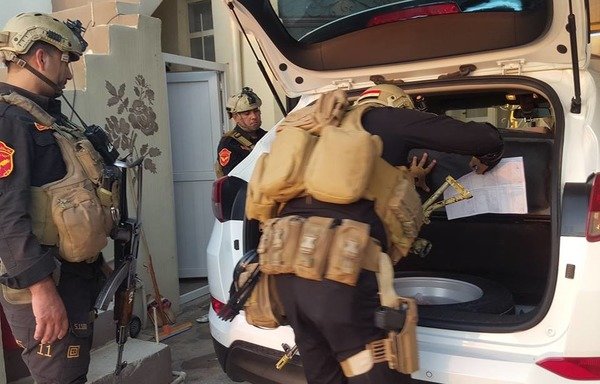 Its activities were conducted in secrecy in Kirkuk neighbourhoods, where its members collected information and moved around in vehicles and motorcycles under cover of darkness to transport and hide explosives in the city's outskirts.
The network sought to draw attention to itself by staging "cowardly" attacks, Iraqi Counter-terrorism Service (CTS) spokesman Sabah al-Numan told Diyaruna.
"However, our forces responded firmly and with painful strikes," he said. "Our intelligence services have been proactive, and we managed to capture terrorists as a result of high level tracking operations."
"We now rely heavily on the strength and effectiveness of intelligence to hunt down terrorist networks, especially those who are trying to hide amid civilians," al-Numan said.
Monitoring begins immediately
The members of these networks and their movements begin to be monitored as soon as intelligence information is received, al-Numan said, and when the time is right, security forces "forcefully confront them".
"We also are working with the international coalition, by providing precise intelligence leading to enemy hideouts so they can immediately target them," he said, pointing to a November 5th strike as a recent example of this co-operation.
The airstrike, which killed 19 ISIS elements in northern Kirkuk, was conducted based on intelligence provided by the CTS, he said.
Meanwhile, he added, "Iraqi security forces have arrested no fewer than 20 ISIS elements during the first half of this month".
The arrests were a result of tip-offs from the civilian population, as well as house raids and search operations for wanted individuals across Kirkuk, he said.
Among the most prominent of the detainees is an ISIS leader in Kirkuk, known as "Abu Ammar" who worked at the group's "preaching and education office".
He was arrested November 13th in the town of Lailan in southeastern Kirkuk.
A number of perpetrators responsible for assassinating both police personnel and civilians were captured in the wave of arrests. They were responsible for previous bombing and terror attacks, and were listed as wanted individuals.
Efforts to undermine ISIS
"These campaigns are part of co-ordinated efforts to undermine terrorist activities of militants and to eliminate them," Kirkuk Police Command media director Col. Afrasiao Kamel Weiss told Diyaruna.
"We have mounted a significant number of attacks against terrorist elements that have been impactful," he said. "We have managed to thwart their plans, as we continue to confront their clandestine activity in residential areas and hunt them down outside the cities."
These operations are based on security plans and intelligence reports from the civilian population, and in collaboration with other security agencies, he added.
"Our co-ordinated efforts have reinstated stability throughout Kirkuk."
Iraqi forces are "doing their job with a sense of responsibility and solidarity", Kirkuk provincial council member Mohammed Kamal told Diyaruna.
"They are sparing no effort so we can enjoy a normal life," he said, adding that they have succeeded in reducing the threat from ISIS elements.
Kirkuk provincial council security committee chairman Burhan al-Assi told Diyaruna it will be necessary to bring more security forces into the province.
"We think these forces have to be increased in number and be better armed, as our province is vast and includes many remote villages," he said. "At the security level, we have achieved remarkable results we would like to reinforce."