A year after its liberation from the "Islamic State of Iraq and Syria" (ISIS), explosives have been removed from the streets of the Ninawa province city of Tal Afar, and its mayor says life is gradually returning to normal.
The city was heavily damaged at the hands of ISIS, which planted mines extensively throughout Tal Afar before it was ousted in August 2017.
The Iraqi army began the task of clearing the city of mines soon after its liberation, dismantling 317 explosive devices that had been planted in the streets and in dozens of homes over the course of six months.
Tal Afar resident Tahsin al-Sheikh told Diyaruna he faced immense hardships when he returned to his home earlier this year from a displacement camp in southern Mosul.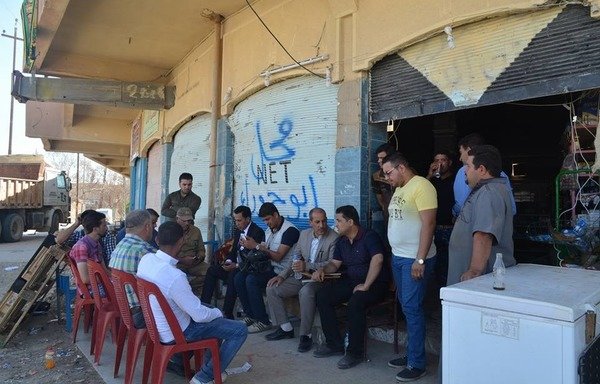 Public services were scarce, he said, and there were still dangers associated with remaining mines and improvised explosive devices (IEDs).
Al-Sheikh said he now sees improvements in the situation.
"I was confident that our city would quickly recover from this crisis," he said. "Although things have still not gone back to how they were before, there is noticeable improvement."
"Public services are improving, shops are reopening, people are venturing out and the security situation is improving," he said.
Main services restored
Almost all services are up and running after the completion of maintenance work to repair the damage, Tal Afar mayor Abdulaal Abbas al-Obeidi told Diyaruna.
These include repairs to the drinking water pumps and the main power plant.
"They are not working at full capacity, resulting in service shortages, but the situation is better than it was a few months ago," he said.
Tal Afar Hospital, the only one in the city, has reopened its doors to patients but remains in need of medicine, medical supplies and staff, al-Obeidi said.
"There are 150 schools throughout the city, 10 of which are completely destroyed while the rest are partially damaged," he said, noting that to date, 60% of the work to repair and rehabilitate schools has been completed.
Many homes in Tal Afar were damaged or destroyed in the battle to oust ISIS.
International organisations -- including the International Migration Organisation, which has repaired 200 homes -- have been helping local authorities with the rehabilitation of homes in order to facilitate the return of displaced families.
International organisations also have been contributing towards rebuilding schools, clearing the city streets and providing psychological counselling and rehabilitation services.
Public services 'satisfactory'
Tal Afar is overcoming the impact of the ISIS occupation at a "good pace", local council member Tariq Hussein Akrish told Diyaruna.
"Around half of those who fled the city to refugee camps in Mosul, the Kurdish region and Turkey have now returned to their homes," he said.
According to official estimates, he said, around 20,000 families have made their way back to the city, with "improved services and security" encouraging them to return.
The services provided in the city are satisfactory, Akrish noted, "but this is not what we aspire to achieve, and we need support so we can provide the best for our people".
"As for security, we have no issues in this regard as the army and police are providing full protection for the city," he added. "Shops are open and people are going about their daily business without any issues."
The operation to liberate Tal Afar was not as brutal as some, such as the push to retake western Mosul, said Ninawa provincial council member Khalaf al-Hadidi.
But the destruction in Tal Afar is significant, he told Diyaruna, as energy, health, education and municipal infrastructure was damaged under ISIS's occupation and during the liberation battle.
"These sectors are now providing services to residents," he said. "But they are in need of more significant rehabilitation and development so they can resume full capacity service."